Q&A with Club Coach on the Penn State-Stanford Match and What it Means for Penn State in 2014
For Both Teams: A Sense of Where They Are
DigNittany: The long-awaited match between the Penn State Nittany Lions and the Stanford Cardinal at Maples Pavilion is history – a 3-2 victory, (25-18, 23-25, 22-25, 25-16, 10-15) for Stanford. The match was both great for the fans, and great as a window into two teams that fought tooth-and-nail in the 2013 NCAA Regional Finals and may well meet again in the 2014 NCAA tournament. We've asked Club Coach, who has coached numerous highly successful NCAA Division I volleyball players, to give us his thoughts about the match and what it says about these two teams going forward. Club Coach: The match was really everything everyone expected. High level play, great athletes, teams forcing each other to make adjustments, lots of ebb and flow. The match in my opinion was more important to Stanford who I think needed to believe they could beat PSU going forward. For Penn State, it was very encouraging, given they had young players in key positions and are not nearly as far a long as Stanford. I think they know that is a match they could have won, and given they blew a huge lead in game 3, they should have won. Both teams certainly have a good sense of where they need to improve as good opponents will expose those areas.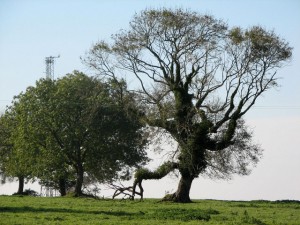 Dancing with the Tree
DigNittany: Let's skip right to the end. After the match, the Stanford players celebrated with the Stanford Pep Band and the Stanford Tree (sorry, we have a hard time getting our mind around the concept of partying-hearty with a tree). Apparently, it's a tradition after Stanford victories. There were some fans who thought the celebration was over-the-top – even disrespectful – to Penn State. Others thought that it was a totally appropriate expression of joy at a big win – and that given the relatively few opportunities in life for that kind of celebration, go for it. Your thoughts? Club Coach: Well I have a hard time being critical of teams enjoying each other and celebrating accomplishments. I also found it to be a show of total respect for what PSU has become as a program which is a benchmark. Stanford wouldn't celebrate a win over just anyone like that. They beat PSU, and that was a big deal. Stanford and John Dunning are class personified. Stanford athletics also has a tradition of the band and Tree being a little rowdy, and a lot of fun. Its what being in college is all about.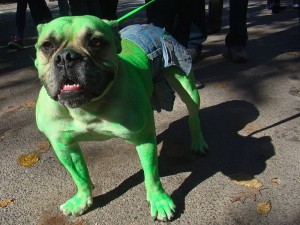 Not Upset
DigNittany: Because Penn State was ranked #1 in the 9-1-14 AVCA Poll and Stanford was ranked #2, some called Stanford's win an upset, but we're going with the coaches on this one: in that 9-1-14 AVCA Poll, Stanford head coach John Dunning voted Stanford #2 and Penn State #3, and Penn State head coach Russ Rose voted Stanford #1 and Penn State #6. Upset? For the two people with the best perspective on the two teams – the coaches – apparently not. Regardless, from our blissfully ignorant fan's perspective, we thought there were a lot of positives that Penn State could take away from this match – one it really had a good chance to win. The obvious is the other-worldly performance of Ali Frantti, but there's more: Aiyana Whitney (a natural OH) looks like she's fitting in at middle blocker. Megan Courtney excelled at Right Side/Opposite, and Simone Lee fought through some adversity to make positive contributions at OH2.  What's your take? Club Coach: Certainly not an upset, I think people who know the game saw this as a "you pick'em" or Stanford as the slight favorite. Of course the match bore that out. You could argue that Frantti was the best player on the floor, and there were some pretty darn good players on the floor. What really stood out to me about her was how calm she looked. She didn't look like a player who was having a great match, or playing above her head. She just looked like a really good player, comfortable in the moment. When I did the Stanford pre-match Q&A for DigNittanyVolleyball, I said Micha's serve would be the "wild-card," and it was — she had a hard time putting in the court (I believe missed two serves in game 5). I thought that was significant. Lee did a great job in that I felt she kept her head above water, which for young players in a match like that, is a positive. Its also what makes Frantti's play that much more impressive. The middles in the match were pretty average in my opinion, and with Washington getting healthy there is going to be a real battle for court time. The backcourt people were solid, although we didn't see the game breaking defensive plays that we have come to expect from Dom and Fuller. Those are the kinds of plays they need to make in game 5 situations.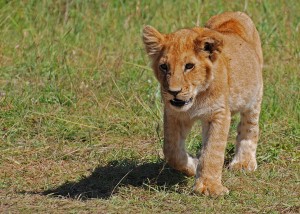 Nittany Lions in the Hunt
DigNittany: Stanford is an experienced team, working with a familiar system – arguably just fine-tuning from a highly successful 2013 campaign. Penn State has key returning starters from its 2013 NCAA Championship team, but key players in new positions (Courtney and Whitney) and new players in key positions (Frantti and Lee). As fans, we're pretty excited by Penn State's upside.  What's your view? Club Coach: This match clearly shows that Penn State is again in great position to win a National Championship and may even be the favorite. I think they win this match on a neutral floor, and I think they have more opportunities to improve given the two teams' starting points. I think specifically you will see this team become increasingly lower error, which was their undoing at Stanford. I also think Washington when healthy makes them better. DigNittany: Thanks so much for your time.  We really appreciate it. __________________________________
Photo Credits
Crowd Surfing: "Cali08Paleo05" by Manuguf – Own work. Licensed under Creative Commons Attribution-Share Alike 3.0-2.5-2.0-1.0 via Wikimedia Commons – http://commons.wikimedia.org/wiki/File:Cali08Paleo05.jpg#mediaviewer/File:Cali08Paleo05.jpg
Horizontal: "Horizontal (PSF)" by Pearson Scott Foresman – Pearson Scott Foresman, donated to the Wikimedia Foundation. Licensed under Public domain via Wikimedia Commons – http://commons.wikimedia.org/wiki/File:Horizontal_(PSF).png#mediaviewer/File:Horizontal_(PSF).png
Toe-Tapping Tree: From the

Geograph project

collection. See

this photograph's page

on the Geograph website for the photographer's contact details. The copyright on this image is owned by Jo Dickson and is licensed for reuse under the

Creative Commons

Attribution-ShareAlike 2.0 license.
Green Dog: Originally posted to

Flickr

, was reviewed on by the

administrator

or

reviewer

File Upload Bot (Magnus Manske)

, who confirmed that it was available on Flickr under the stated license on that date.
Lion Cub: "Lion cub, Masai Mara, Kenya" by Paul Mannix – Lion cub, Masai Mara, Kenya. Licensed under Creative Commons Attribution-Share Alike 2.0 via Wikimedia Commons – http://commons.wikimedia.org/wiki/File:Lion_cub,_Masai_Mara,_Kenya.jpg#mediaviewer/File:Lion_cub,_Masai_Mara,_Kenya.jpg