We're speaking today with Talking Head, who played D1 volleyball and has coached the sport for many years.
DigNittany: Your overall thoughts on the Final Four?
Talking Head: It has the makings of an incredible Final Four.  Three iconic coaches: Nebraska's John Cook — certainly one of the great coaches of the present day.  A legend in Penn State's Russ Rose.  A legend in Mary Wise.  And Stanford's Kevin Hambly — the cupboard certainly wasn't bare when he took the job, but it's no easy task, as a new coach in a new program, to win the Pac-12 and take your team all the way to the Final Four.  Hats off to all of the coaches, and here's wishing that all the teams play their best games.  If that happens, we fans are in for a special, special Final Four, with the Big Ten co-champions, who have been neck-and-neck all season long, the Pac-12 champion, and the SEC co-champion.  What's not to love about that?
DigNittany:  Penn State faces Nebraska in its Semifinal match.  What impresses you most about the Huskers?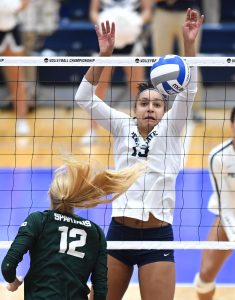 Talking Head: Nebraska is a team that doesn't seem to break very often.  They don't beat themselves — you have to beat them.  You could probably say that about all of the teams in the Final Four, but Nebraska certainly has performed exceptionally well after some early season setbacks.  Now, they probably are the least explosive team offensively of the Final Four, but they play a different system.  They wear you down, they bring balls back, they get touches.  You better be clean in putting the ball down or they're going to put it right back down on you, with a vengeance.  6-3 Jr. OH Mikaela Foecke is a hammer — no doubt about it.  So is 6-1 Sr. MB Briana Holman.  But I don't think those players are quite as athletically dynamic as Florida's 6-4 Sr. MB Rhamat Alhassan, or Penn State's 6-3 Sr. MB Haleigh Washington and 6-1 Sr. OH Simone Lee, or Stanford's 6-6 So. RS/OH  Kathryn Plummer.  But again, Nebraska is a system team — they grind you down, and they aren't fazed if they drop a set.  I think Final Fours come down to offense and execution, and I'm very excited about what Penn State brings to the table offensively.
DigNittany:  What separates Penn State from Nebraska, offensively?
Talking Head: The ability of their offense to adjust if a player is having a bad game.  We've seen it many times.  If Simone Lee starts slow, some combination of Haleigh Washington, Heidi Thelen, Ali Frantti, Tori Gorrell, and Abby Detering have picked things up.  Plus, if players aren't getting the results they would like on offense, they don't let it affect the rest of their game.  You saw that with Haleigh Washington on Saturday night against Michigan State.  She only had five kills, but she had ten total blocks — only one off her career high (set in 2015 in a Saturday morning match against St. Johns).  So she was off a bit offensively, maybe the connection with the setters was a bit off, maybe Michigan State's focus on her was a bit disruptive — whatever the reason, she didn't let it affect the rest of her game.  She was a real force with her blocking, she served bombs, and she dug balls.  She was a difference-maker in the match, even with a sub-par offensive performance.  That's what's cool about this Penn State team.  They don't panic when one of their best players isn't performing in one skill area the way everyone expects that player to perform.  They have the ability to absorb that, and find other ways, and other people, to step up and score.  In my observation — and granted, I haven't watched the other three teams as often as I've watched Penn State — the other teams don't have that ability to the same degree as Penn State.  But as we've discussed several times, it generally takes three players performing well offensively to win a match.  Even with one of their stars having a bad night, Penn State has the ability to come up with that third player.  Our point of attack and our arms right now are pretty darn lethal.  I don't know that the other Final Four teams have the players to do that consistently.  But we'll see — all the teams have a lot of great players.  It will be a battle.  I'm looking forward to it.
DigNittany:  After the Michigan State match, Coach Rose praised the play of 6-0 RS Jr. setter Bryanna Weiskircher, calling her "cagey" and saying that her ability to remain calm in a match was very important to this Penn State team.  Your thoughts?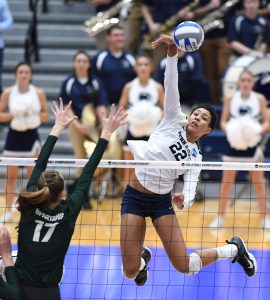 Talking Head:  Bryanna brings a lot of things to the team when she steps on the court.  I can't tell you how many times I've seen that kid come in to serve when we're down by two or three points, and when she's done, we're up by one.  She has the ability to shift the momentum because she is controlling the floor and controlling her team and setting the tone.  She's done a really, really good job and is playing at a really high level.
DigNittany:  It's a team sport, but any other Penn State players you'd like to mention?
Talking Head: Heidi Thelen had a special performance against Michigan State by taking advantage of openings in their block.  And Ali Frantti played really well against the Spartans.  She may not shine for the whole match, but there have been stretches in the matches over the past two or three weeks when she's been the best player on the court.
DigNittany: Nia Reed had a nice match subbing in against Michigan State (3 kills, .500 hitting %, 1 block).  What's impressive to you about Nia Reed's offense?
Talking Head:  She has a somewhat unorthodox arm swing, but when it gets fully extended, her point of contact may be higher than anyone else on the team.  She got on top of a couple balls against Michigan State, and she blocked a ball too, and her head was over the net.  Michigan State dug her one time when she hit line, but she had two hits from the outside where she went over the block and down into the twenty-foot line.  She jumps really well, and she's really strong and she brings a very heavy ball.
DigNittany: What do you think will decide the match with Nebraska?
Talking Head: I think it's going to come down to a single play in each game, or at least the deciding couple of games.  It's that close.  You might see "extra innings."  It might come down one play — a service ace, an overpass, a dig — that gives one team a two or three point advantage, and that's it.  That's really exciting about this Final Four, for everybody.
DigNittany: Thanks, as always for your time.  We appreciate it.
Credits
Photo represented Talking Head is a glass sculpture "Café," by Dan-Dailey, 1979.  Corning Museum of Glass. This file is licensed under the Creative Commons Attribution-Share Alike 3.0 Unported license.
Photo of Haleigh Washington by Steve Manuel.  Copyright 2017 Steve Manuel.  Published with permission.  All rights reserved.
Photo of Simone Lee by Steve Manuel. Copyright 2017 Steve Manuel. Published with permission. All rights reserved