Three 2020 recruits have already signed national letters of intent to join Penn State women's volleyball for the coming season.
Annie Cate Fitzpatrick, Macy Van Den Elzen, and Maddy Bilinovic will arrive on campus this offseason and begin their journeys as Nittany Lions, hoping to carve out a significant role for themselves on a junior-laden team next fall.
Head coach Russ Rose may not be done accumulating talent in the 2020 class just yet. He would love to sign another outside hitter to bolster Penn State's depth at the position following Tori Gorrell's graduation.
Sophie Fischer, who visited Penn State for the final weekend of the regular season, is the lone Under Armour All-American this year who is still uncommitted. The 6-foot-5 outside hitter from Fort Mill, South Carolina, originally picked the Tar Heels, but has since re-opened her recruitment and is probably heading to a Big Ten school. Nebraska and Minnesota are also reportedly in the mix for her signature.
Fitzpatrick and Van Den Elzen will have a chance to get acclimated with each other's game and do some recruiting of Fischer when they play in the 14th annual Under Armour All-America Volleyball Match on December 31 in Orlando. It will be streamed on FloVolleyball at 7 p.m. ET.
The 24 players invited to the event have typically been divided into an East and West team, so it's likely Fitzpatrick (Ocala, FL), Van Den Elzen (Emmaus, PA), and Fischer will all be on the East squad.
Past participants in the prestigious match on Penn State's current roster include Jonni Parker, Gabby Blossom, and Lauren Clark.
Fischer was named the South Carolina Gatorade state player of the year as a junior after leading Nation Ford High School to the first of two straight state championships. She could take home the honor again when this year's award is announced in January. Also of note, August 1, 2020 is the final signing date for volleyball prospects this recruiting cycle.
Fitzpatrick, who checks in at 6-foot-1, is an outstanding athlete who can do a little bit of everything on the volleyball court. She was also a standout basketball player for Trinity Catholic High School until she was forced to focus her attention on volleyball as a junior.
Van Den Elzen, on the other hand, is a taller outside hitter at 6-foot-4 who can often hit over the block, which cannot be understated when playing against teams like Stanford or any number of Big Ten programs. Like Fitzpatrick, she had more than 1,400 kills during her high school career (excluding club), according to MaxPreps.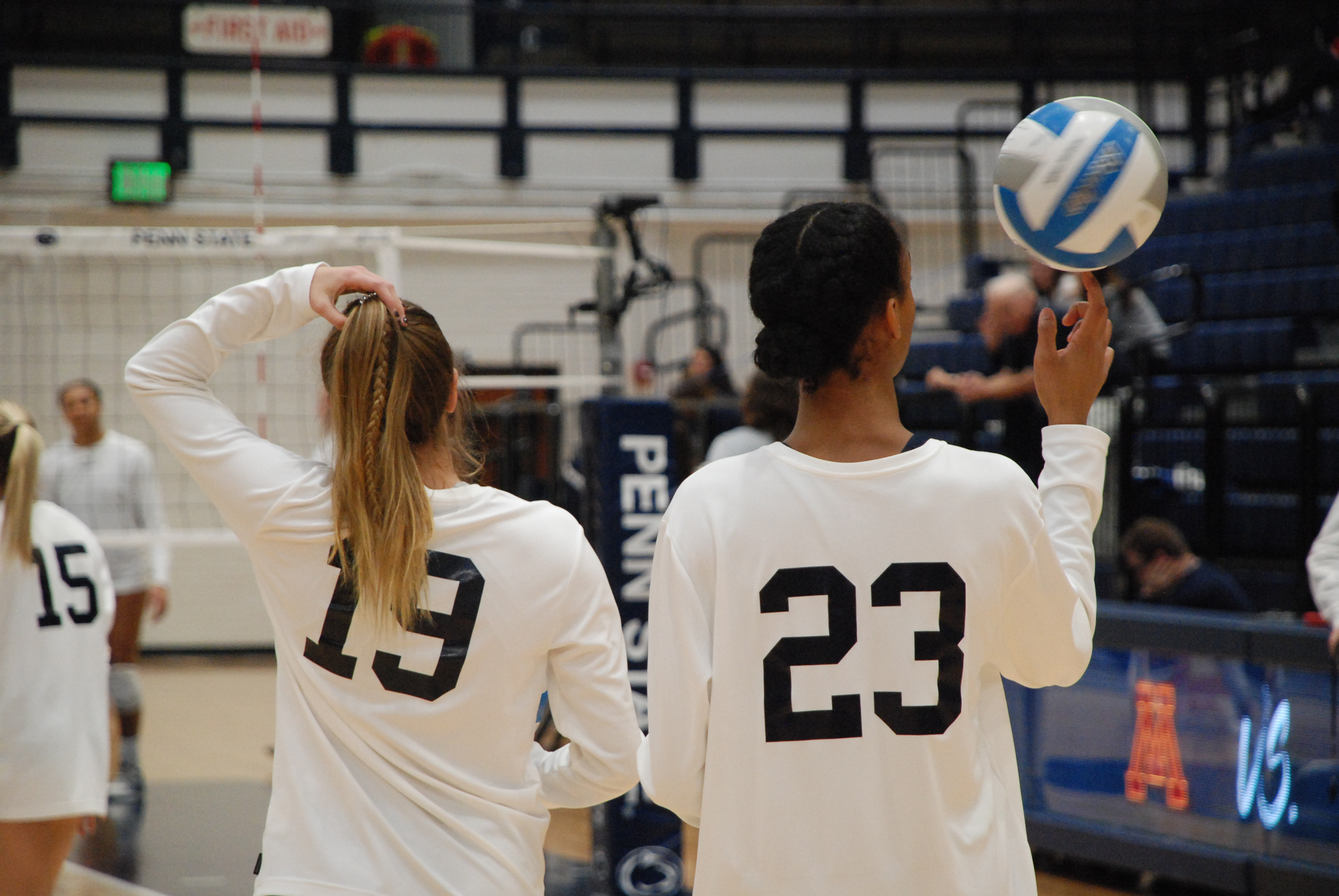 Although the Nittany Lions return a pair of outside hitters with starting experience in Clark and Allyson Cathey this coming season and are excited about the potential of rising sophomore Gabi Bailey, Fitzpatrick and Van Den Elzen will immediately push for playing time upon their enrollment.
That's the kind of culture Rose has established within Rec Hall. As evidenced by graduating defensive specialist Keeton Holcomb's quote this past season, no one's job is ever safe when you're playing for Penn State. Proving yourself as a capable contributor who can affect the match in a positive way is a constant process.
"I think it's cool to be in such a gym where you're competing every single day," Holcomb said. "It's not a comfort thing. Everyone's good. We compete every day for our spots, it's not handed to us."
Graduating captain Kristin Krause, whose older sister, Taylor, also played volleyball for the Nittany Lions, offered her advice to incoming freshmen during an interview in November.
"I think it's just knowing that every day you're giving it your all and you're never going to look back and think about what I could have done," Krause said. "Just knowing every time you walk into these doors of South Gym that you're giving everything you can to be your best."
Maddy Bilinovic, who hails from Independence, Ohio, will almost certainly factor into Penn State's defensive specialist rotation as a freshman.
The departures of Holcomb, Krause, Emily Sciorra, and program great Kendall White means Rose is not only looking for a new libero for the first time in four years, but will also need a handful of largely unproven defensive specialists to step up and fill key roles off the bench.
Rising junior Jenna Hampton has the libero job in her crosshairs after a strong first two seasons on campus, but Macall Peed, Molly Russell, and Bilinovic, among others, will be right on her tail in practice. Former University of Miami setter Sophie Walls transitioned to defensive specialist during her first season at Penn State and could also contribute as a junior.
Bilinovic recorded 1,383 digs and dialed up 232 aces from the service line, per MaxPreps, during an impressive career at Independence High School. She and Fitzpatrick both committed to Penn State as sophomores way back in fall 2017, while Van Den Elzen jumped on board in August of 2018.
It will be interesting to see how Penn State's incoming freshman class adjusts to the college game and what kind of impact the newest Nittany Lions will have on the program in what's sure to be an exciting 2020 season.