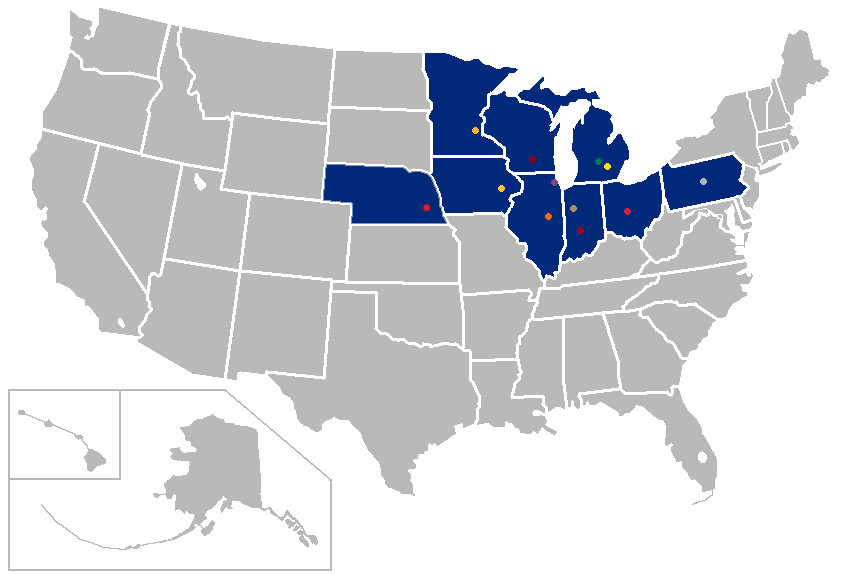 Penn State Ranked #1 in AVCA Poll
The AVCA Poll for September 24, 2012 is out, and Penn State is ranked #1 following its big win over Nebraska, and its victory on Saturday over a determined Iowa squad.  Other B1G schools in the AVCA Top 20 are Nebraska at #6, Minnesota at #10, and Purdue at #13.  For the complete AVCA Weekly Poll, Click Here.
Hancock Named B1G Co-Setter of the Week
From the Big Ten's weekly volleyball awards release:
Micha Hancock, Penn State
S – So. – Edmond, Okla. – Edmond Memorial
Helped No 4 Penn State to wins over No. 3 Nebraska (3-1) and Iowa (3-1)
Averaged 13.5 assists, 2.8 digs and 0.5 blocks per set
Reels in her second Setter of the Week honor and third award overall
Last Penn State Setter of the Week: Micha Hancock (Sept. 3, 2012)
Co-Setter of the Week
Alexandra Palmer, Minnesota
S – Jr. – Laguna Beach, Calif. – Laguna Beach
Guided No.12 Minnesota to wins over No. 20 Illinois and Northwestern
Averaged 14.0 assists, 1.3 digs and 0.4 blocks per set
Earns her first Big Ten weekly award
Last Minnesota Setter of the Week: N/A
Read the complete release at BigTen.org
Errors Compared
Coach Rose has expressed concern (that may be too mild a word, but we're sticking with it for now) about the frequency with which this year's team makes errors.  We've put together two tables to see how the 2012 Penn State team compares to other Big Ten teams, and to other Penn State teams from recent years.  
The takeaway?  It's better not to make errors than to make errors.  We knew you'd be impressed. 
B1G Errors - 9-23-12
Rich
Kern
Poll
9-24-12
Team
Total
Sets
Attack
Errors
Attack
Errors/
Set
Service
Aces
Service
Errors
Service
Errors/
Set
Receive
Errors
Receive
Errors/
Set
1
Penn State
45
186
4.13
67
114
2.53
36
0.80
5
Nebraska
39
169
4.33
44
70
1.79
29
0.74
10
Minnesota
45
190
4.22
73
123
2.73
42
0.93
13
Purdue
47
218
4.64
65
66
1.40
40
0.85
20
Illinois
47
214
4.55
50
90
1.91
71
1.51
21
Ohio State
53
260
4.91
67
96
1.81
40
0.75
24
Michigan
62
313
5.05
82
128
2.06
64
1.03
25
Michigan State
48
212
4.42
85
98
2.04
33
0.69
Errors per Set (by Season)
Season
Total Sets

Attack
Errors/
Set
Service
Errors/
Set
Receive
Errors/
Set
2006-Pro-forma
(assuming
25 Points
per set)
114
4.19
2.40
0.84
2007-Pro-forma
(assuming
25 Points
per set)
122
4.00
2.31
0.78
2008
(25 Points
per set)
116
3.69
2.91
0.61
2009
(25 Points
per set)
122
3.36
1.98
0.53
2010
(25 Points
per set)
123
3.95
2.21
0.78
2011
(25 Points
per set)
122
4.62
2.36
0.93
2012
as of 9-23
(25 Points
per set)
45
4.13
2.53
0.80