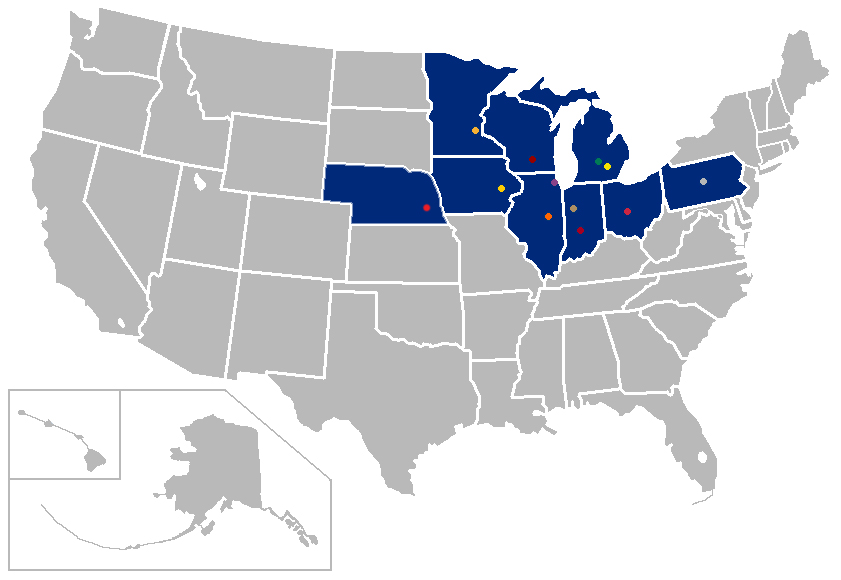 Lions Capture 15th Big Ten Championship (Thanks Gophers!)
 Penn State needed a win to clinch a tie for the Big Ten Title, and took care of their end of things by sweeping Indiana (25-12, 25-18, 25-22), giving Penn State its ninth B1G title in the past 10 years (last year being the outlier) and 15th overall.   It took a helping hand from Minnesota to win the title outright, as the Gophers knocked off Nebraska, 3-2, to drop the Huskers into a three-way tie for second (along with the Gophers and the Ohio State Buckeyes — more on them later), all of whom are four matches behind Penn State with three matches remaining in the season.  With the title comes an automatic berth in the 2012 NCAA Tournament, though with the #2 ranking in the country, that wasn't really a question mark for Penn State.
It was a big night for Penn State statistically, as the Nittany Lions had a .452 team attack % (Indiana hit .141), led by 6-4 Jr. RS/Opp Ariel Scott's 12 kills (.417 attack %), 6-1 Jr. OH Deja McClendon's 11 kills (.370 attack %), and 6-2 Fr. OH Megan Courtney's 7 kills (.545 attack %!).   
Next up for the Nittany Lions are the Purdue Boilermakers.  The setup for that match is after the Match Stats.
Match Stats
(Courtesy of GoPSUsports.com)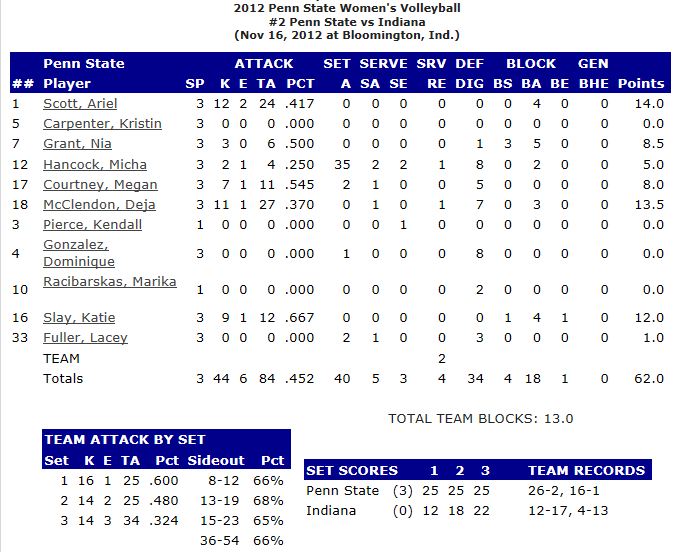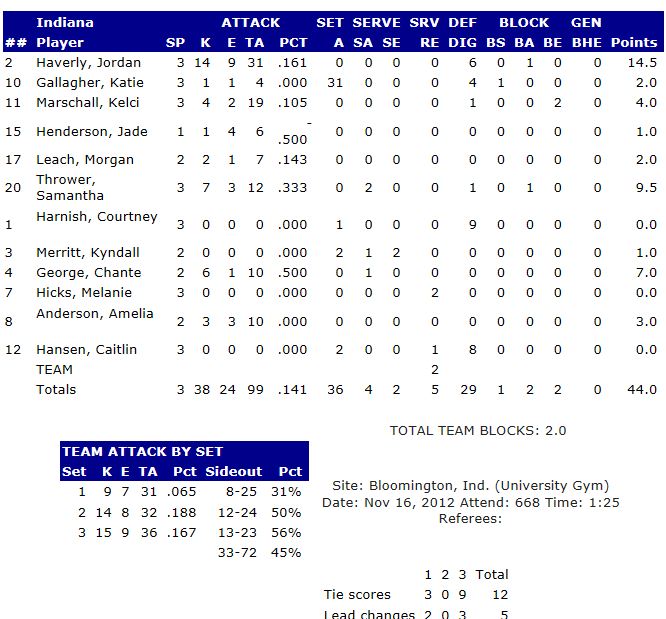 Ohio State Steams Boilermakers (Thanks Alot, Again, Buckeyes)
This is getting to be very, very old.  Penn State takes care of business in the first of its two weekly matches, and is all set to move on to the marquee matchup, when in steps Ohio State to knock off that marquee team before Penn State ever steps on the court.  Leaving said marquee team in a decidedly bad mood.
The last time the Buckeyes set up Penn State this way, they downed Nebraska 3-1 in Lincoln, two nights before Penn State came to town (and lost in five sets to the Huskers).  Tonight it was Ohio State over Purdue, 3-0, in West Lafayette.   As if Purdue didn't already have enough motivation to take Penn State down a notch. 
So thanks alot, again, Buckeyes.  Better have your game faces on, Penn State.   Purdue will be in a very unforgiving mood.