Penn State women's volleyball freshmen Annie Cate Fitzpatrick and Maddy Bilinovic arrived at University Park last fall as two of the top prospects at their respective positions in the 2020 recruiting class.
Fitzpatrick was named an Under Armour All-American and Florida's Gatorade State Player of the Year as a senior at Trinity Catholic High School in Ocala, Florida. Bilinovic put together an excellent career at Independence High School just outside of Cleveland, Ohio. She and Fitzpatrick were both named to the 2020 VolleyballMag.com Girls Fab 50.
The duo made their first collegiate starts last weekend in a pair of wins over Illinois at Rec Hall and quickly validated the hype surrounding their addition to the program. Fitzpatrick led the Nittany Lions with 30 kills and added 26 digs, while Bilinovic had 32 digs, seven assists, and three aces donning Penn State's libero jersey.
Jenna Hampton was unavailable for last weekend's matches against the Fighting Illini, watching the action from the sidelines alongside classmate and starting setter Gabby Blossom, Lauren Clark, Sophie Walls, and Allie Holland, but is expected to take on libero duties once she returns to the lineup. Having both Hampton and Bilinovic in the rotation — potentially on the floor at the same time — will be good news for Penn State's serve-receive, which struggled occasionally against Illinois.
"I think it bodes well for Maddy that she played so well," Russ Rose said following Friday's win. "Certainly when Jenna's healthy, we'll have two people who can play the libero position and the defensive position."
After posting 17 kills and 17 digs in a come-from-behind win over Illinois Saturday night, Fitzpatrick discussed the impact of her roommate Bilinovic on the court, saying her energy and vocal nature were key factors in helping the Nittany Lions go 2-0 to start the season.
"Maddy's just everywhere all the time," Fitzpatrick said. "She's great defensively and she is so loud, which helps the team so much, because it's so great to have a loud person who's all up in the your face on the court. She's just super into the game and she brings a ton of energy onto the court, which we really need, especially in those fifth-set matches. I thought she did a great job this weekend."
Bilinovic admitted she was somewhat nervous before making her debut, but said her teammates encouraged her and helped keep spirits high despite the tiny crowd of only players' families in attendance.
"I'm not going to lie, there were a couple nerves at the beginning, but my teammates helped me push through that," Bilinovic said. "I was just happy to be out there, make some plays, do whatever I can to help my team out."
Returning All-American and co-captain Jonni Parker spoke highly of Bilinovic, a fellow Ohioan, during her preseason press conference on January 20. Seeing what Bilinovic accomplished on opening weekend further drives home Parker's points.
"Maddy's great," Parker said. "She came in guns blazing. She went after everything. She was talking all the time on the court and was always getting extra reps — willing to help with anybody, coming in extra. She's a great player and is always talking in the gym. You can always hear her no matter where she's at on or off the court. She's a great defender and passer and I can't wait to see what she does this season."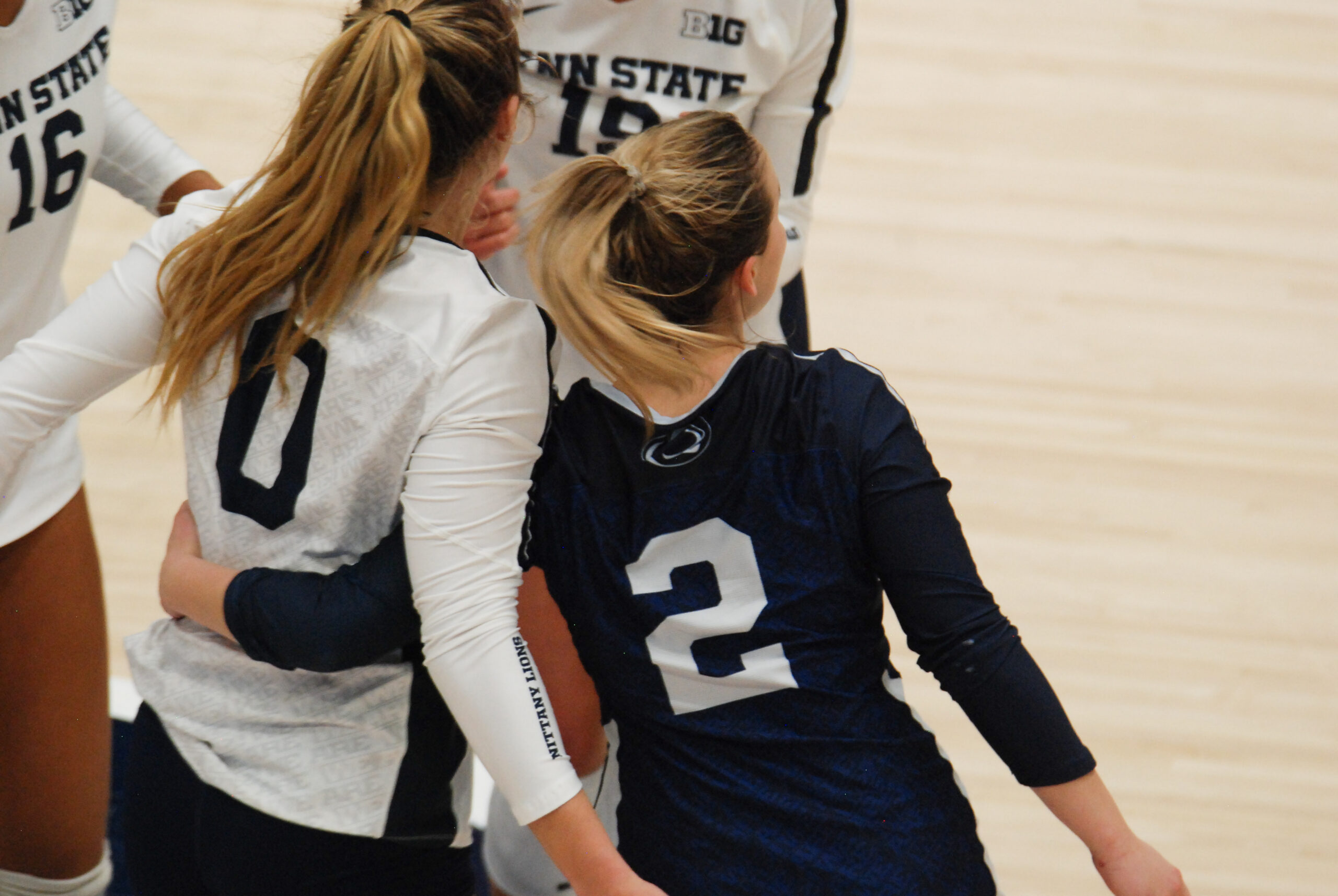 Although Fitzpatrick is relatively short for a Big Ten outside hitter (she's listed at 5-foot-11 on Penn State's official roster), her lack of size is more than made up for by her effortless athleticism and versatility, which will serve her well against a difficult conference schedule littered with imposing players on the opposite side of the net.
Fitzpatrick also played basketball early in her high school career before focusing her attention fully on volleyball. She verbally committed to the Nittany Lions during the fall of her sophomore year and never wavered despite a growing national reputation and plenty of interest from high-profile volleyball programs around the country. Rose gave his thoughts on what Fitzpatrick brings to the team following Saturday's win.
"She's always going to be an undersized outside hitter," Rose said. "She's going to play hard. That's one of the things she does. She likes to take big swings. She just has to learn to take smart swings when she's playing against a big block and she's out of system, because if you hit it real hard into a big block, it puts a lot of pressure on your teammates to cover. It's a big challenge."
A few weeks ago, Rose had this to say about Fitzpatrick: "She could carry a pretty big load, because she's more of a six-rotation player than somebody who might be a back-row player who just comes in to serve and comes out. I think she'll be able to do some things where people are going to say, 'Wow, that's really impressive.' And she'll do some things and they'll just say, 'Well, she's a freshman.' I think I'll be doing the same thing. And I do the same things in practice every day."
Blossom, a returning All-American and one of the Big Ten's best setters, praised Fitzpatrick during preseason media day and lauded the freshman for her competitive spirit and enthusiasm. Once she's back in the lineup, Blossom will likely seek out Fitzpatrick often this season while distributing the ball around to Penn State's hitters, who exceeded expectations on opening weekend.
"AC is great," Blossom said. "Not having a season in the fall semester, it just let us as a team have great relationships with each other. I think she's great. She brings a ton of energy. She goes really hard. Some people might say she's small, but I would take her on my team any day. I love her. I think she brings so much to the team and I'm really excited for her Penn State career and that I get to be a part of it."
Fitzpatrick leads a group of five Nittany Lions who tallied double-digit kills last weekend, including Parker, Anastasiya Kudryashova, Kaitlyn Hord, and Serena Gray. Fitzpatrick took a combined 60 swings against Illinois and hit .350 to start her Penn State career with style and (more importantly) efficiency.
It's clear Fitzpatrick and Bilinovic have already built quite a rapport, so it will be exciting to see how these two progress and push each other over the course of their time at Penn State. Given the NCAA's eligibility pause, they will still be considered freshmen this fall when the second season of 2021 rolls around. How good could they be by the time they're seniors?
"I was just having a lot of fun," Fitzpatrick said Saturday. "I love the competitiveness of the game. It's really nice having a bunch of other hitters on the team who can hold those middles, because obviously I'm undersized, so it's nice to be able to think that the ball is going elsewhere so I get that opportunity to be one-on-one. Having that helped and then obviously having Emily [Oerther] setting me, she was getting me quick balls so I could beat the block some of the time, so it was just really nice having teammates who can do that for me."
Parker gave her thoughts on Fitzpatrick following Friday's win, which featured a .306 team hitting percentage to start the season after two weeks of postponed matches. Opposing teams will have to pick their poison when defending the combination of Parker and Fitzpatrick, who likely won't spend much time on the bench this season.
"I thought Annie Cate did really well," Parker said. "She mixed it up with her shots, stayed aggressive with her swings, and was all over the place in the back row trying to make some plays, so I was really proud of what she did tonight, as well as Maddy in the back row."