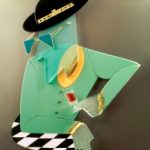 Pre-season practice starts on Monday, August 7th, so we're here with Talking Head, who played D1 volleyball and has coached the sport for many years, to talk about the upcoming season.
1. The Veteran Staff is a Big Plus
DigNittany: Penn State has all its starters back from 2016 and several significant non-starter contributors as well.  In addition, Coach Rose is bringing in three new front row players: 6-2 Jr. RS Kat Cather, who spent her freshman and sophomore seasons at Mississippi; 6-2 Fr. MH Cami May, and 6-1 Fr. OH Michaela Putnicki.  What's your quick take on the team's prospects for 2017?


Talking Head:  I'm cautiously optimistic.  There obviously are benefits to having almost every player back from 2016, but I think having all the staff returning is a big deal.  After the 2014 NCAA Championship year, assistant coach Steve Mussie, director of volleyball operations Kevin Burch, and volunteer assistant coach JJ Goddu all moved on.   Regardless of the quality of their replacements — and assistant coach Craig Dyer and director of volleyball operations Jon Parry have both been very good — there's an adjustment for Coach Rose, for the players, and for the new staff members.  This will be the third consecutive year with associate head coach Salima Rockwell, assistant coach Craig Dyer and director of volleyball operations Jon Parry all returning — the only changeover being that long-time Penn State assistant coach (and former Virginia head coach) Dennis Hohenshelt has replaced Marcos dos Santos as the volunteer assistant coach.   Staff continuity helps in so many ways.

DigNittany: What are some of the ways that plays out?
Talking Head: With an experienced staff there's a trust factor and familiarity that allows a coach to delegate certain things, and know that they're getting covered, which in turn allows him to focus on other things.  When your staff has been with a team for awhile, they know what certain players need from a coaching perspective — what they respond to and what they don't respond to — the details and intangibles that help players and teams improve their production level.
2. The Three-Way Fight at Right-side is Too Close to Call


DigNittany: Although 6-2 Sr. Heidi Thelen started most of the season at right-side, our guess is that there will be a three way fight to fill that spot this year, with 6-1 RS Jr. Nia Reed and newcomer 6-2 Jr. Kat Cather battling with Thelen for the starting position.  Your thoughts?  [Editor's note:  6-2 Fr. Cami May is listed on the Penn State roster at right-side, but we're covering her at middle hitter].
Talking Head: No doubt it will be a battle, and I wouldn't count any of those three out.  As a senior, Heidi Thelen obviously has the advantage of experience.  She's a strong blocker and performed well last season at right-side after moving from her accustomed middle hitter position.  At 6-2, Kat Cather brings nice size to the position, and she definitely has a heavy arm.  Anyone who puts down 20 kills and hits .621 in a D1 match, as Cather did last season in a match against Arkansas, is pretty darn good.  But I think Nia Reed will be the first option, with Cather as the second option.  Reed is finally completely healthy, and has worked very hard the past two seasons to improve her overall game.  I think it's going to pay off this season and that she's primed to hit her stride and have a really nice year.
But it's going to be a really close call among these three players.  For sure we have depth at right-side, and we also have versatility.  You saw that with Nia Reed against Nebraska in the Sweet 16, where all of a sudden she ran middle and had some really nice hits.  And we know she can hit on the left and she can hit on the right.  And Thelen can hit middle or right.  That kind of versatility is a nice luxury.
3. Talent, Experience and Depth at Middle Hitter (there's a pattern here)
DigNittany: 6-3 Sr. Haleigh Washington and 6-2 So. Tori Gorrell both return at middle hitter, and are joined by newcomer 6-2 Fr. Cami May.  And there's always the chance that Heidi Thelen could move back to MH, adding yet more depth and experience to the position.   What's your take on the MH position for 2017?
Talking Head:  It's certainly possible that Heidi Thelen will see some significant time at middle hitter in important matches.  Both she and Tori Gorrell are  strong blockers, with Thelen having a bit more strength and Gorrell bringing a bit more offense.  If Gorrell fades in matches, Coach Rose won't hesitate to bring in Thelen (assuming Gorrell wins the position to begin with).  But I think Washington and Gorrell will be the two starters.  Washington will be integral to the team's success, and hopefully will play with Inky Ajanaku-like focus.  As for Tori Gorrell, the thing to remember is that she was a freshman last season.  Tori has a very strong work ethic and no doubt will be stronger and better than she was in 2016.  Cami May should be a good one, but she'll probably not be a key contributor this season.  If we're wrong, then that means she is playing very, very well and opponents will need to watch out.
4. Outside Hitter – You Guessed it — Talent, Experience and Depth
OH Attack Leaders: 2016 (Final Stats)
DigNittany: The top two attackers from 2016 — 6-1 Sr. Simone Lee and 6-1 Sr. Ali Frantti — are both outside hitters.  Both Lee and Frantti are extremely talented, with the main criticism raised against both of them (somewhat unfairly, we think — but that's a discussion for another time) is inconsistency.  This season Coach Rose has added a player in 6-1 Fr. Michaela Putnicki who may be able to spot them from time-to-time.  Your thoughts?
Talking Head: I think Putnicki is a talented all-around player, with the ability to play six rotations.  I think she'll have a good opportunity to play this season, and will add much-needed depth to a very experienced and very talented duo of outside hitters.
5. Setter – Another Tough Choice for Coach Rose


DigNittany: Penn State will enter the 2017 season with two experienced setters (there's that pattern again): 6-0 Sr. Abby Detering (who started 29 matches last season, appearing in a total of 33 matches and 109 sets), and 6-0 RS Jr. Bryanna Weiskircher (who started five matches in 2016, appearing a total of 25 matches and 70 sets).  Detering led the team with 1082 assists, and recorded 95 kills, 194 digs, 42 blocks, and a team-high 39 service aces.  Weiskircher posted 231 assists, 71 digs, 15 kills, 14 blocks and 12 service aces during the 2016 season.  We talked in mid June about whether Coach Rose might run a 6-2 or modified 6-2 this season to take advantage of that experience.  You said then that with the personnel on this year's team, Coach Rose will have the option to run a 6-2 (or at least experiment with a 6-2).  Any further thoughts on that?
Talking Head: I think Weiskircher and Detering are very close in ability and experience, and with this year's veteran team, Coach Rose certainly will have the option to go to the 6-2 from time-to-time.  He may want to do that to keep both setters hungry.  He may want to do that to keep opponents off-balance.  And he may want to do that because in certain situations it will put Penn State in the best position to succeed.  Because of that situational flexibility, I think Penn State will be in a much better position this year, compared to the last two years, to be able to dictate the flow of matches if they play to their potential.
6.  Backrow — Talent and Experience (again)
Returning Backrow Recept/Dig Leaders - 2016
DigNittany: With 5-5 So. libero Kendall White, 5-7 Jr. DS Keeton Holcomb, and 5-8 Sr. DS Lainy Pierce all returning in 2017, there's talent and experience in the backrow.  Then there are the 2016 freshman who will also be battling for playing time — 5-2 So. Emily Sciorra, 5-7 So. Kristin Krause, and 5-6 So. Allison Farrell.
Talking Head: I think the backrow will be solid this season.  Again, experience should pay off with improved play.
7. The Top B1G Teams Not Named Penn State all Suffered Significant Losses
DigNittany: How does the league look to you? (Admittedly, this is a pretty unfair question given that none of them have had even one pre-season practice, let alone played a match this season.)
Talking Head: Let's start with Wisconsin.  Lauren Carlini is gone, and regardless of the comparisons and rivalry with Micha Hancock, Carlini was a great player.  That's a huge loss for the Badgers, regardless of how good 6-0 Fr. setter Sydney Hilley may prove to be (and all reports are that she is very good).  And they lost 6-4 Haleigh Nelson, who ranks first in Wisconsin career hitting percentage (.375), seventh in career blocks per set with 1.20, third in career block assists with 537, and tied for fifth in career total blocks with 597.  That's another huge loss.
Turning to Minnesota, the Gophers lost Sarah Wilhite, who was the AVCA and ESPNW National Player of the Year, and both Tapp sisters — AVCA Second Team All-American Hannah Tapp and All-Big Ten honorable mention Paige Tapp, who were deadly running the slide, which set up the rest of the Gophers' offense.  Ohio State lost Taylor Sanbothe, who finished her career as Ohio State's all-time leader with 564 total blocks and was the spark for the Buckeyes ever since she arrived.  Big loss.  Iowa lost four seniors, Northwestern lost five seniors.
And Nebraska – my goodness, with the graduation of Amber and Kadie Rolfzen, Nebraska loses their iconic players for the past four years.  They were both players who at times could take over a match.  They lost Justine Wong-Orantes, their backrow glue for the past four years.  They lost Andie Malloy, one of many much-heralded transfers who have joined the Huskers over the years.  Even with their typically great recruiting, those are really big losses.  Michigan State lost 6-4 OH Chloe Reinig, who had her ups-and-downs at Michigan State, but was PrepVolleyball.com's #4-rated recruit nationally her senior year, and 6-2 MB/Opp Allyssah Fitterer, who I think was one of the most solid players over the past couple of years.  Michigan loses All-American Abby Cole and 5th-year senior Kelly Murphy, who played in all 35 matches and started 30.
DigNittany: It will be interesting to see how the B1G season plays out.  We're with you — cautiously optimistic — but it's a long season and alot can happen.  For now, thanks for your time.  We really appreciate it.  Go Nittany Lions!
Credits
Photo used to represent Talking Head, glass sculpture by Dan Dailey, Dan Daily Studios.  This file is licensed under the Creative Commons Attribution-Share Alike 3.0 Unported
Photos of Penn State coaches and players courtesy of GoPSUsports.com.