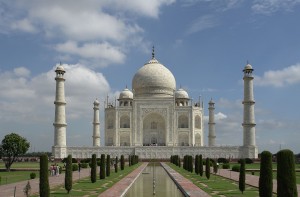 Date (Time)
Opponent
Site
Media
11-28-15
(9:30 p.m. ET)
Devaney
Center

TV - BTN






The #7-ranked Penn State women's volleyball team  (26-4, 15-4 in the B1G) has dropped only four matches this season, but one of those losses was a five-set shocker to Nebraska in Rec Hall on October 2, 2015, in which the Nittany Lions took the first two sets, 25-12 and 26-24, then dropped the next three — 14-25, 20-25, and 11-15.
Coach Rose described the match this way:
Coming out of the break, we did a similar thing as happened last week.  The other team played really well and we weren't able to defend what they were doing. . . . Their hitters were taking good, aggressive swings.  They did a far better job of getting their kids ready to play than I did.

You can play well and lose and feel good about how you played. . . . I didn't think we were great in the first game.  I thought we competed pretty good.  They didn't come out of the gate real strong, but they got stronger as the match went on and we didn't get stronger as the match went on, and that's the results that you're going to see.

We didn't hold our home court like we should.  The results are a reflection of how we played and how we coached, and that's part of the equation.  I thought they did a better job in all aspects of the game, especially serving, passing and competing.  It was disappointing to sit there and go through it, but if we learn a lesson from it, then that's fine.  But if we continue to repeat it, then we are what our record says we are.
Both teams undoubtedly have learned lessons since that match.   For Penn State, the Nebraska match was the first as a starter this season for 6-1 So. Simone Lee.  Against the Huskers, Lee registered 7 kills and hit .038.  Since that match, she has shown steady improvement, starting each of the 17 matches, registering double-digit kills in six of them, and is now hitting .273 in B1G matches (4th on the team) and averaging 1.91 kills/set (5th on the team).  Sr. libero Kendall Pierce registered one dig in the first match.  Against Northwestern on Wednesday night, she started her second consecutive match, totaling a career and team-high 12 digs.  5-8 Fr. DS/setter Wilma Rivera didn't play at all in the first match against Nebraska, but has performed well in a string of matches, including Wednesday night's sweep of Northwestern, where she finished with 8 digs (second on the team).
Coach Rose commented on Rivera's recent play after that match:
Alot of times with young kids, they kind of get lost in the whole experience.  In pre-season, I would have said she was going to be the starting setter.  I think she wasn't ready at the beginning of the year.  She's really one of our best defensive players, has a really good volleyball IQ, and really would enable us to go to a 6-2 if we would ever get some good production from some of the guys on the other side of the net in practice.  I feel good about Wilma's ability to go in and play.  We'll see how she does in Nebraska, with 8,000 people screaming, but she's a little more comfortable [now].
The same question — how will the Devaney Center crowd impact the match? — could be raised with respect to the entire team, not just Rivera.  We think they'll do just fine.  It's not the first time they've played on a big stage (the four seniors have been to three Final Fours, and won back-to-back NCAA championships), and they understand playing in front of hostile crowds.  We're taking the Nittany Lions, in a very tough match.
Statistics: Side-by-Side
Penn State finishes the regular season this year against Nebraska, just like last year (except this year the match is in the Devaney Center instead of Rec Hall).  The two teams are very evenly matched, statistically.  If anything, Nebraska may have a slight statistical edge. I have prepared a chart showing comparisons of the most significant statistical categories between the two teams.
You'll notice that Nebraska has a slight advantage of 0.6 kills/set differentials difference. Also, there is a 0.4 aces/set differentials difference in the Husker's favor. Penn State has a slight advantage over Nebraska of 0.4 blocks/set differentials difference. Surprisingly, considering how many difficulties the Nittany Lions have had in the back row this season, Penn State is even with Nebraska in the digs/set differentials difference.  It is difficult to draw any conclusions as to who has the advantage, based on the stats, and who will ultimately win this match.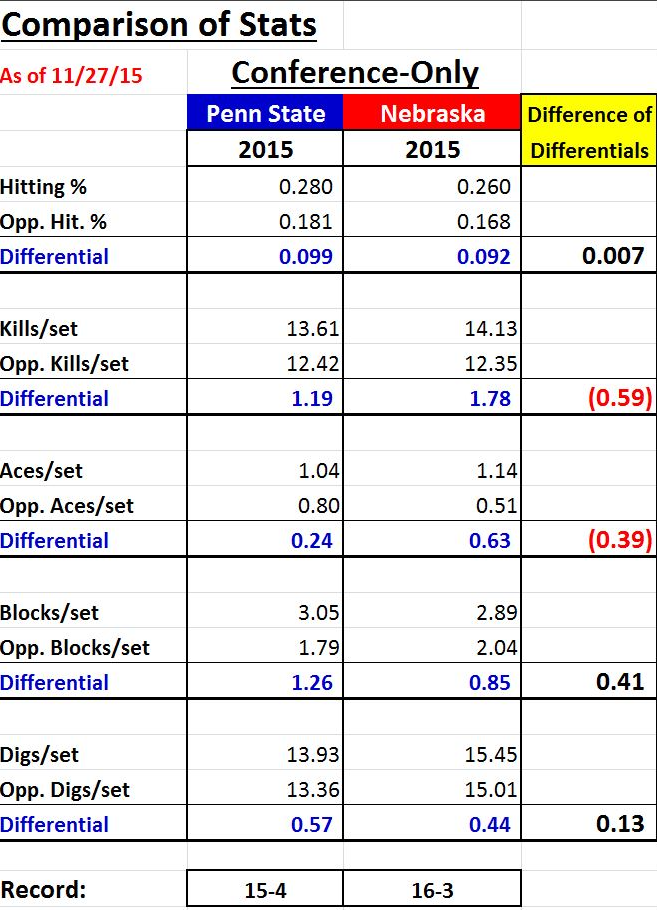 I have also prepared the sideout stats for each 2 team over their last 14 matches. You will notice that Penn State is siding out at 64% to 52% for their opponents (difference of 12%) and Nebraska is siding out at 67% to 54% for their opponents (difference of 13%). Again, the stats are not very telling as to who will win, as both teams are pretty evenly matched.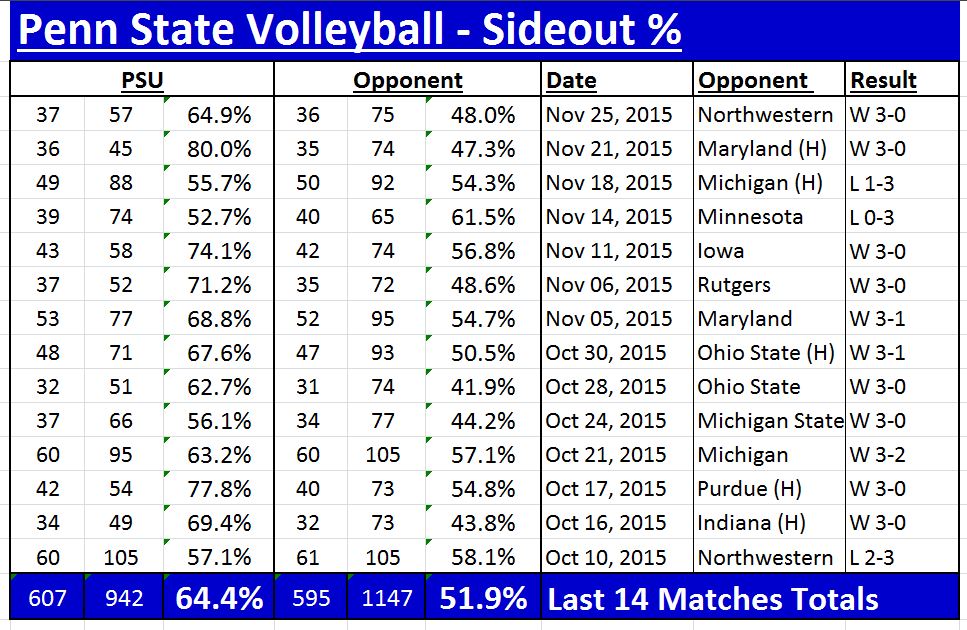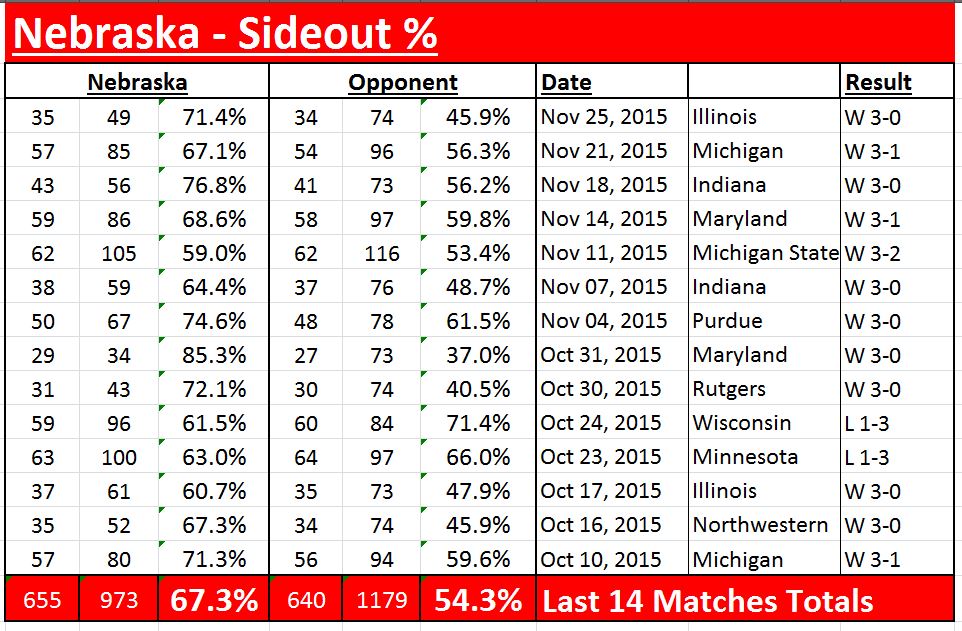 I think this match will come down to the individual performances of one or more players. Who will bring it? As often is the case, this match could also turn on which team makes fewer mistakes and errors. I have put together a chart of each teams' starter's stats in conference-only play.  You will notice that, on average, PSU's starters have more efficient hitting percentage than their Nebraska counterparts.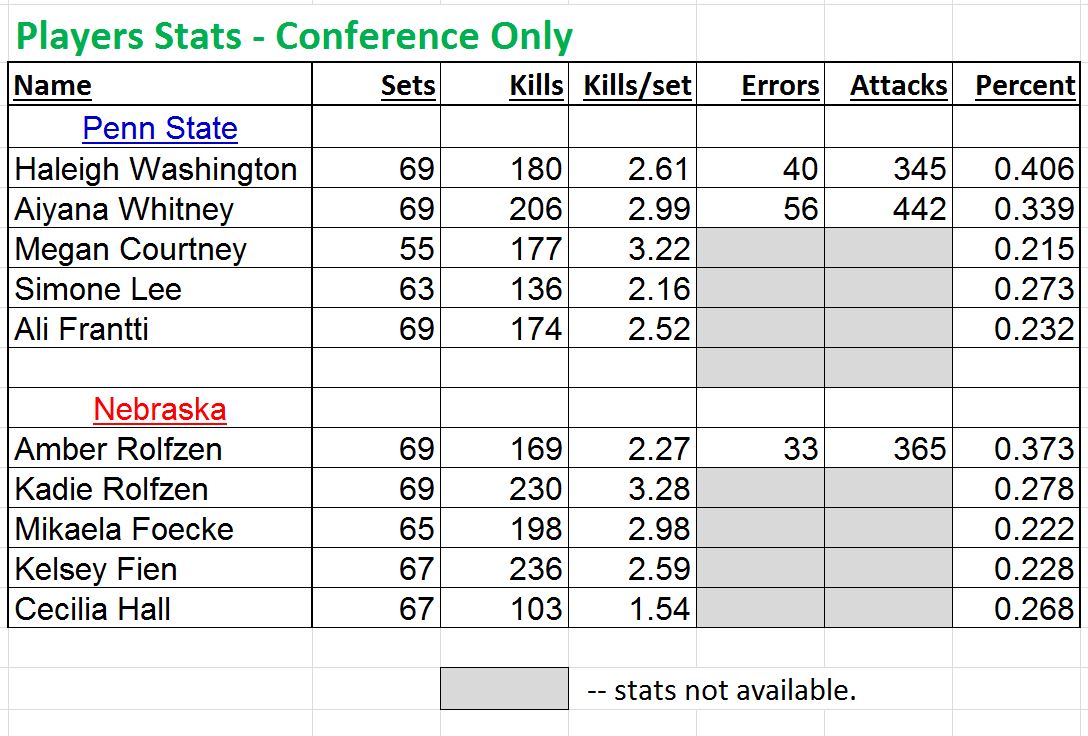 In the final analysis, I think you have to give Nebraska an edge because they are playing at home and in front of a raucous crowd (or maybe a not so raucous sea of red). Of course, Penn State will want to avenge their earlier loss to Nebraska at Rec Hall and will bring that energy and fire to fuel their desire to come out on top.
It should be a great match.
Credits