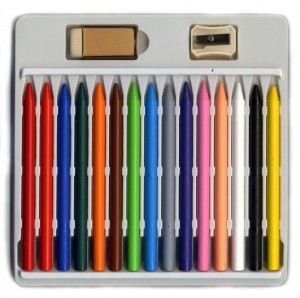 By Lionsfan
1. Seeing Red
Remember last year when Penn State rolled to a 25-12 first set win in Lincoln? It looked like it could be a great match for the Lions….who then went on to lose the next three sets. It was a familiar scene Friday in Rec Hall, when the Lions couldn't capitalize on a two-set lead (25-12, 26-24) and fell in five to the Huskers, who stormed back to win the next three 25-14, 25-20, 15-11 behind freshman Mikaela Foecke's career-high 22 kills. The win snapped Penn State's 33-game win streak, was Nebraska's first-ever true road win over a No. 1 team in school history and was also the Huskers' first win in Rec Hall since joining the Big Ten (their only other Rec Hall win outside of 1993). The win dropped Penn State to #3—a bit of irony (or is that payback?) considering that one week ago, the Lions moved ahead of Nebraska for first-place all-time being ranked #1.
2. Seeing Red, Part 2
The Huskers were soon feeling their own bit of déjà vu. Last year after that very same match in which Nebraska came back to beat Penn State 3-1 in Lincoln, they welcomed Ohio State to town…and were upset in five. The same thing happened this year, except this time the Huskers were on the road, as the Buckeyes topped the Huskers 22-25, 25-18, 25-22, 17-25, 15-10 one night after Nebraska's five-set win in State College (as noted by the Lincoln Journal Star, Nebraska was looking to win back-to-back wins on the road against ranked teams for the second time since 2003). That kept the Huskers from receiving any first-place votes—and kept them #4 (lionsfan would still have the Huskers ranked ahead of the Lions).
3. Buckeye Bounce
Meanwhile, the Buckeyes jumped up four spots to #9—and are 5-0 versus Top 20 teams this season. It is Ohio State's highest ranking since last cracking the Top 10 back in 2004, when they finished the season at #6 in the final poll. As noted by the Ohio State SID, the Buckeyes have defeated Nebraska in three of the last four bouts. The Huskers had been ranked #4 (in 2012), #8 (2014) and #4 (2015) prior to the OSU victories.
4. Trojans at the Top
In a battle of Pac unbeaten, Southern Cal came out on top at home, defeating Washington in four: 25-16, 22-25, 25-21, 33-31. That snapped a five-match losing streak to the Huskies (and is the Women of Troy's first win since 2012). That propelled 16-0 USC to the #1 spot—its first #1 ranking since Oct. 2013, and 42nd in program history (good for sixth-place all time, trailing Hawaii with 48 and UCLA with 56 first-place weeks). The Trojans are 86-8 when they are ranked No. 1.
5. Sun Devil History
How amazing of a season is Arizona State having? With its four-set victory over Stanford, the Sun Devils ended a 15-year, 28-game losing streak to the Cardinal (ASU's last win was on Sept. 30, 2000, also in four-sets at home). At 14-0, they are continuing the second-best start in school history (and best ever in the NCAA era), and their 3-0 conference start is the best since 1986. Two days later with a sweep against Cal, senior OH Macey Gardner set a new ASU record, surpassing Christine Gardner's mark of 1,871 kills that was set 20 years ago. Her weekend earned her Pac-12 and Sports Imports/AVCA National Player of the Week honors. The Sun Devils picked up two first-place votes and moved up one spot to #5 in the rankings, the highest ever in school history. Up next for the Sun Devils is a tough battle in Seattle against #6 Washington.
Not to be outdone, Kansas won its one match of the week (against West Virginia) to improve to 15-0, the best start in school history (and longest win streak ever). That moved the Jayhawks to #10 in the poll, the program's highest ever. Along with Southern Cal and Arizona State, they are the only undefeated Div. I teams. Kansas leads the nation in kills (15.5) and assists (14.5), and ranks second in hitting percentage (.322).
7. Razor Sharper
With it's thrilling five-set home win over then-#9 Florida (winning 18-16 in the last frame), Arkansas notched its first win over the Gators since 2007 (the program's last win over a Top 10 team), and just their third win in the series in 40 contests. It is the Razorbacks' second win over teams ranked in the Top 11 this season, and their 13-2 start ties the 1998 team for the best start in program history (their 3-0 SEC start is the first since 2003).  Arkansas moved into the poll at #22 after receiving votes for two weeks. It is the school's first ranking since finishing at #25 in the final poll of 1999. Congrats to the Razorbacks! Up next, a battle at #20 Kentucky, also undefeated in SEC play.
8. Seeing Orange
Florida's loss to the Razorbacks was its third consecutive SEC loss—the program's first three-game conference losing streak since 1989 (two years before the arrival of current head coach Mary Wise). That was because of an epic collapse at Missouri last week: Up 25-22, 25-20 and 11-2 over the Tigers, Florida lost the last three sets -21, -19, -10. It was Mizzou's first win over a Top-10 opponent since its sweep at No. 5 Florida on Nov. 15, 2013. The Tigers are now 14-1 and are the first team outside the poll receiving votes. The Gators, meanwhile, fell eight spots to #17 and next host 9-5 Texas A&M.
9. Seeing More Orange
The Gators had some company in the rough week category, as #7 Illinois dropped its two road contests—falling in four at Wisconsin and in five at Minnesota. That dropped them six spots to #13, while their rivals gained ground: Minnesota moved up five spots to #11, while Wisconsin moved up three to #16. That angry Illini team could be bad news for the Lions, who visit Champaign on Friday (their first road test of the season) in what is expected to be a raucous crowd for IlliNOISE Night. Illinois stunned the Lions with a four-set win in Rec Hall last year. In their last nine matches, Penn State is 5-4 against Illinois—and four of those contests have gone five sets.
10. Back on the Hill
Since losing in five sets to Missouri State (a team with a solid RPI), Western Kentucky has won 11 straight matches and sits at 17-2. That moved the Lady Toppers into the poll at #23, its second appearance of the year after hitting #20 in Week 1.
11. RPI Watch
The first RPI of the season was released this week, and the Big Ten is holding steady with 11 teams in the Top 33 (!!!). The rankings: 1. Southern Cal, 2. Texas, 3. UCLA, 4. Nebraska, 5. Florida, 6. Penn State, 7. Stanford, 8. Ohio State, 9. Kansas, 10. Minnesota, 11. Missouri, 12. Wisconsin, 13. Arizona State, 14. Washington, 15. Louisville, 16. Arkansas State, 17. Michigan, 18. Kentucky, 19. BYU, 20. Creighton, 21. Illinois, 26. Northwestern, 27. Michigan State, 31. Purdue, 33. Iowa
12. Bracket Predictions
Yeah, it's way too early….but it's fun to guess, so here are my stabs at how the top 16 seeds will shake out in December:
San Diego Regional: 1. Southern Cal, 2. Florida, 3. Kansas, 4. Illinois
Austin Regional: 1. Texas, 2. Arizona State, 3. UCLA, 4. Wisconsin
Des Moines Regional: 1. Nebraska, 2. Stanford, 3. Ohio State, 4. Missouri
Lexington Regional: 1. Washington, 2. Penn State, 3. Minnesota, 4. Kentucky
13. Baden News, Good News
Penn State issued the following press release on Tuesday:  Baden Named Official Ball Supplier for Women's Volleyball.
Baden Sports, Inc., announced it has been selected as the official ball supplier of the Pennsylvania State University women's volleyball team. The Nittany Lions, winners of seven NCAA national championships — more than any women's volleyball team in history — will use Baden volleyballs exclusively in all program activities including clinics, exhibitions, games, practices and tournaments, starting this year.

"Baden has demonstrated a commitment to growing our sport and improving the game for all players," Rose said. "Their volleyballs set the standard for quality and performance, and I'm confident everybody involved with the Penn State program — from coaches to clinic participants — will notice the difference." In addition to volleyballs, the Nittany Lions will use Baden's latest volleyball cart, the Perfection® Hammock Cart, which was newly designed this year for quality and durability. Featuring a tempered alloy frame, nylon bag with reinforced seams and clear, non-marking rollerblade wheels, the cart can hold more than 30 volleyballs and comes with an unprecedented three-year guarantee.

Baden also provides the official court volleyball of the AVCA, and is the official volleyball of the Pennsylvania Volleyball Coaches Association (PVCA), as well as numerous state high school associations nationwide.
14. Nebraska, Wisconsin and Penn State Lead B1G in Attendance
As of October 4th, Nebraska, with 56,962 fans having attended 7 home matches this season, leads the B1G in both total and per-match (8,137) home attendance.  Wisconsin is second with 4,367 fans per home match, with Penn State in third place at 4,119 fans per home match.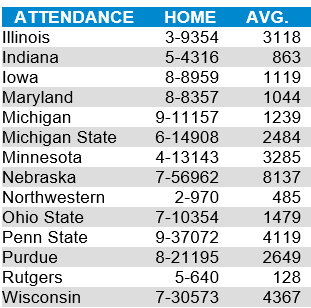 15. Lionsfan's Top 25 - 10-5-15 (click team logos for more info)
School
Lionsfan's
10-5-15
Rank
AVCA
10-5-15
Poll
W
L
#1
#1
16
0
#2
#2
13
1
#3
#5
15
0
#4
#4
12
2
Penn
State

#5
#3
14
1
#6
#9
14
2
#7
#7
8
4
#8
#6
13
1
Kansas

#9
#10
15
0
Minnesota

#10
#11
11
3
#11
#12
11
3
Hawaii

#12
#8
14
1
#13
#13
11
4
BYU

#14
#15
13
2
Arizona

#15
#14
12
4
Wisc.

#16
#16
10
4
Arkansas

#17
#22
13
2
Florida

#18
#17
9
4
Florida
State

#19
#18
11
4
Purdue

#20
#19
13
2
Kentucky

#21
#20
11
5
Colorado
State

#22
#21
11
3
#23
nr
14
1
Michigan
State

#24
nr
9
4
#25
#24
12
3