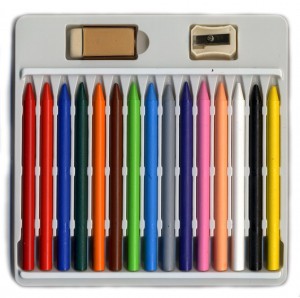 15 Points
By Lionsfan
1. Split Decision.
Losses by the top two teams in last week's AVCA poll — USC and Texas — created a little chaos at the top of this week's AVCA Poll, with the top four teams all getting first-place votes. When the dust had settled, Penn State (with two wins last week over then-#11 Ohio State) found itself at #1 with 27 first-place votes. It is the seventh poll this season that the Lions have been in the top spot—and the 87th time in history, the most of any program (Nebraska entered the season in the top spot and is now second with 85 times).  Southern Cal also earned 27 first-place votes and landed in second, while #3 Washington earned eight first-place votes and #4 Minnesota earned two. (For the record, Russ Rose has: 1. Southern Cal, 2. Washington, 3. Penn State, 4. Minnesota, 5. Texas, 6. Nebraska).
2. Huskies: No Place Like Home.
Southern Cal was riding a 22-match win streak and four weeks as the #1 team, but a trip to Seattle ended both of those streaks with a surprising sweep loss. The Huskies extended their own streak of 25 straight Pac-12 home wins, and now trail the Woman of Troy by one game in the Pac standings. As noted by the Washington SID, it was the fourth straight home win for the Huskies over the Trojans, and the sixth win in the past seven meetings between the teams. It also echoed a match last year, when the Huskies ended #1 Stanford's 28-match win streak. Washington moved up two spots to #3, while USC dropped to #2.
3. Long Horned.
How historic was Texas Christian's surprise sweep of then #2 Texas? It was the Horned Frogs first win in the series (Texas leads 10-1); first ranked victory for TCU this season and the first since a 3-2 win over No. 24 Oklahoma on Nov. 5, 2014; and it was the school's first win over a Top 5 opponent in program history. Texas is now tied for the lead in the Big 12 with Kansas at 9-1 (the two schools meet in Lawrence on Wednesday). Texas dropped to #5 in the poll.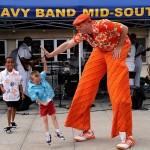 4. B1G Statement — AVCA Poll.
This marks the seventh straight week that eight Big Ten teams have been ranked; the Pac-12 is next with six teams. In addition, six Big Ten teams are ranked among the top 10 nationally in average attendance: 1. Nebraska (8,207), 3. Wisconsin (4,741), 4. Penn State (4,081), 5. Minnesota (3,511), 6. Illinois (2,972) and 8. Michigan State (2,815).

5. B1G Statement — Academic Achievement
Washington Earns CoSIDA Academic All-District Honors
(Courtesy of GoPSUsports.com)
UNIVERSITY PARK, Pa. — Penn State women's volleyball sophomore Haleigh Washington (Colorado Springs, Colo.) has been selected to the Academic All-District team, as announced by the College Sports Information Directors of America (CoSIDA) this afternoon. Washington is one of six student-athletes to garner the distinction in the District 2 category.

Washington will now be considered for national honors as an Academic All-American, which is set to be announced near the end of the month. Washington is the 11th different Nittany Lion in program history to earn the distinction and Penn State's 18th overall selection to an Academic All-District team.
6. B1G Statement — Attendance.
According to a report by the NCAA as of November 4, 2015, five of the top six teams in average attendance per match are from the B1G — six of the top eight, and eight of the top 23! See the list below (and click the link below to go straight to the complete table).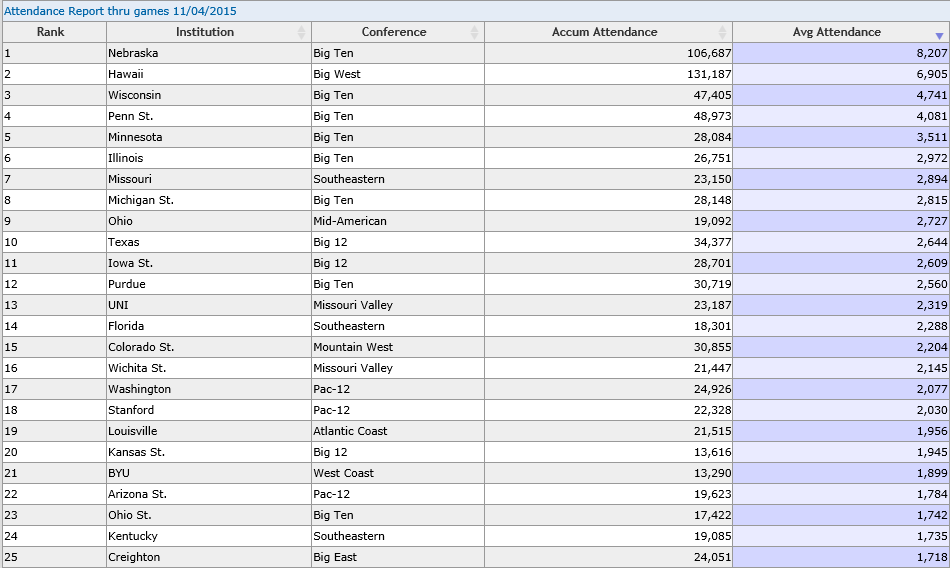 7. B1G Setter of the Week.
Weiskircher Named Big Ten Setter of the Week
(Courtesy of GoPSUsports.com)
UNIVERSITY PARK, Pa.– After helping Penn State women's volleyball to a home-and-home sweep against No. 11 Ohio State last week, redshirt freshman Bryanna Weiskircher has earned Big Ten Setter of the Week honors. The award marks the first time in her career she's received Big Ten weekly recognition.

Weiskircher paced the team to a .358 hitting percentage in a 2-0 week that featured a pair of wins against the Buckeyes. Averaging 11.00 assists per set, Weiskircher directed the Nittany Lion offense to team hitting clips of .349 or better in each outing.

For the complete release from GoPSUsports.com, Click Here.
8. Carolina Climb.
It's been a hot-and-cold season for North Carolina, whose tough schedule was starting to get the best of it. But the Tar Heels have won five straight and nine of its last 10 (the only loss in that span a five-setter to Florida State), including its upset of ACC leader Louisville. It was the Cardinals first loss in the ACC, and snapped their 10-match win streak. Despite the loss, Louisville moved up a spot and is tied with San Diego for #22. The Tar Heels are now the first team outside of the poll in the "Receiving Votes" category, and is in third place in the ACC at 10-2.
9. Panthers Prowling.
Speaking of the ACC, the race is tightening up thanks to another upset: Pitt handed then-#15 Florida State its first conference loss, dropping the Seminoles two spots. It was the Panthers first win over a Top 15 team since defeating No. 5 Notre Dame 3-2 in 2005. Pitt followed it up with a win over Miami, and travels to Louisville on Friday. Pitt stands at 9-3 in conference, good for fourth.
10. Gators Chomping.
One week after topping Kentucky, Florida returned home to avenge its two other conference losses: It topped Arkansas and Missouri in sweeps. They followed that up this week with South Carolina and Georgia, and have moved up to #11 in the polls. Of their last seven matches, the only one that could prove tricky is at Texas A&M—which won a 3-1 battle at Kentucky last week, and followed it up last night with a sweep of Missouri. The Aggies and Wildcats are tied for the conference lead, with Florida one game behind. Kentucky dropped just one spot to #21.
11. Welcome Back, USD!
With sweeps of Loyola Marymount and Pepperdine, San Diego moved into the poll at #24 two weeks ago after a five-week absence (the Toreros were #23, #18 and #21 in the first three weeks). Despite getting swept at BYU, the Toreros moved up two spots to a tie for #22. They now share the WCC lead with the Cougars at 9-2 (BYU has beaten them twice this season).
12. Riding the Rainbow.
With two more wins, 20-1 Hawai'i stayed at #6 for the second week—its highest ranking since Week 6 of 2013 (#5). Hawai'i holds a 15-match win streak, its longest since winning 19 straight in 2012. Up next is a rematch at Long Beach State; the Bows won the first meeting in five.
13. RPI Watch
The most recent RPI rankings:
Southern Cal, 2. Texas, 3. Florida, 4. Penn State, 5. Minnesota, 6. Ohio State, 7. UCLA, 8. Kansas, 9. Nebraska, 10. Washington, 11. Stanford, 12. Wisconsin, 13. Kentucky, 14. Missouri, 15. BYU, 16. Florida State, 17. Iowa State, 18. Illinois, 19. Texas A&M, 20. Arkansas State, 30. Purdue, 31. Michigan, 33. Northwestern, 41. Michigan State.
14. Bracket Predictions
Here are my stabs at how the top 16 seeds will shake out in December:
San Diego Regional: 1. Southern Cal, 2. Stanford, 3. Kansas, 4. BYU
Austin Regional: 1. Texas, 2. Nebraska, 3. Ohio State, 4. Texas A&M
Des Moines Regional: 1. Minnesota, 2. Washington, 3. Wisconsin, 4. Iowa State
Lexington Regional: 1. Florida, 2. Penn State, 3. UCLA, 4. Kentucky
15. Lionsfan's Top 25 (as of results through Sunday 11/1)
1. Southern Cal, 2. Washington, 3. Minnesota, 4. Penn State, 5. Texas, 6. Nebraska, 7. Stanford, 8. UCLA, 9. Wisconsin, 10. Ohio State, 11. Florida, 12. Hawaii, 13. Kansas, 14. BYU, 15. Florida State, 16. Purdue, 17. Illinois, 18. Arizona, 19. Colorado State, 20. Arizona State, 21. Texas A&M, 22. Kentucky, 23. San Diego, 24. North Carolina, 25. Michigan
Credits