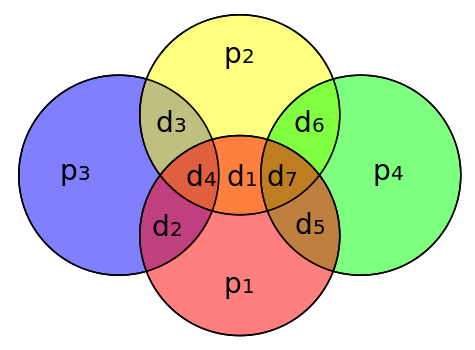 I get no kick from Champagne. Mere alcohol doesn't thrill me at all. So tell me why should it be true. That I get a kick out of you.
Parity Bowl?
Personally, we were hoping for a B1G Five-Peat, but UCLA was having none of it, as the Bruins downed Illinois, 3-1 (25-23, 23-25, 26-24, 25-16), winning its first NCAA Women's Volleyball Championship since 1991.  UCLA was led by Tournament Most Outstanding Player 6-3 Jr. OH Rachael Kidder, who totaled 20 kills and eight digs, and 5-11 Sr. S Lauren Van Orden, who had 53 assists and a career-best 17 digs.  Congrats to the Bruins, and to Illinois for a terrific season.
Throughout the season, the volleyball blogisphere talk was all about "parity" — that the title was up for grabs, and that no one team stood out from the pack.  That may be true — six teams (we think) were ranked #1 in the AVCA poll during the season.  Then again, we suspect that Illinois, Florida State, Texas, and Penn State (all of whom the Bruins defeated on their way to the 2011 title) would agree that UCLA was very good when it counted most — in December.
That discussion aside, we can say that the 2011 Finalists were well down the chart for the period from 1998 through 2011 (which is conveniently located below) in terms of won-lost records in matches and sets compared to previous NCAA Finalists.  (To be clear, we're not belittling the accomplishments of the 2011 Final Four teams.  We think the statistics reflect the parity that characterized the 2011 season, which we do not equate with mediocrity).
Back to the statistics, UCLA tied the 2004 Stanford championship team for most matches lost in a season (6) during that period.  Its 31 sets lost also was second from the bottom among the champions (the 2004 Stanford team lost 35).  Illinois tied 2004 Minnesota (33-5) and 2002 Stanford (32-5) for most matches lost by a second-place finisher during the period (its 43 sets lost were the most for any runner-up, followed by the 34 sets lost by the 2004 Minnesota team).  USC and Florida State fell somewhere in the middle of the pack among teams that lost in the Semi-finals.
Take a look and, check out the video of Errol Garner (born in Pittsburgh, PA!) at the end of this post playing "I Get a Kick Out of You."  Not a swing blocker (he was 5′ 2″), but the man definitely could swing.
Oh – the chart is sortable, meaning that you can re-order the columns by clicking on the arrows at the top of any given column.
2011 Parity Bowl? Won Lost Records (Matches and Sets) of Final Four Teams from 1998 to 2011
| Year | Team | Conference | NCAA Finish | Wins (Matches) | Losses (Matches) | Wins (Sets) | Losses (Sets) |
| --- | --- | --- | --- | --- | --- | --- | --- |
| 2008 | Penn State | Big Ten | First | 38 | 0 | 114 | 2 |
| 2009 | Penn State | Big Ten | First | 38 | 0 | 114 | 8 |
| 1998 | Long Beach | Big West | First | 36 | 0 | 108 | 8 |
| 2003 | USC | Pac 10 | First | 35 | 0 | 105 | 8 |
| 2000 | Nebraska | Big 12 | First | 34 | 0 | 102 | 13 |
| 1999 | Penn State | Big Ten | First | 36 | 1 | 110 | 15 |
| 2006 | Nebraska | Big 12 | First | 33 | 1 | 101 | 14 |
| 2005 | Washington | Pac 10 | First | 32 | 1 | 98 | 10 |
| 2002 | USC | Pac 10 | First | 31 | 1 | 95 | 12 |
| 2007 | Penn State | Big Ten | First | 34 | 2 | 104 | 18 |
| 2001 | Stanford | Pac 10 | First | 33 | 2 | 101 | 21 |
| 2010 | Penn State | Big Ten | First | 32 | 5 | 103 | 20 |
| 2011 | UCLA | Pac 12 | First | 30 | 6 | 97 | 31 |
| 2004 | Stanford | Pac 10 | First | 30 | 6 | 98 | 35 |
| 2001 | Long Beach | Big West | Second | 33 | 1 | NA | NA |
| 1998 | Penn State | Big Ten | Second | 34 | 1 | 104 | 6 |
| 2003 | Florida | SEC | Second | 36 | 2 | 109 | 8 |
| 2005 | Nebraska | Big 12 | Second | 33 | 2 | 101 | 15 |
| 2009 | Texas | Big 12 | Second | 29 | 2 | 91 | 13 |
| 2007 | Stanford | Pac 10 | Second | 32 | 3 | 101 | 24 |
| 1999 | Stanford | Pac 10 | Second | 31 | 3 | 95 | 18 |
| 2000 | Wisconsin | Big Ten | Second | 33 | 4 | NA | NA |
| 2008 | Stanford | Pac 10 | Second | 31 | 4 | 95 | 23 |
| 2006 | Stanford | Pac 10 | Second | 30 | 4 | 92 | 19 |
| 2010 | California | Pac 10 | Second | 30 | 4 | 95 | 23 |
| 2004 | Minnesota | Big Ten | Second | 33 | 5 | 105 | 34 |
| 2002 | Stanford | Pac 10 | Second | 32 | 5 | 102 | 27 |
| 2011 | Illinois | Big 10 | Second | 32 | 5 | 100 | 43 |
| 2003 | Hawaii | WAC | Semi-finals | 36 | 2 | 109 | 16 |
| 2002 | Hawaii | WAC | Semi-finals | 34 | 2 | 102 | 12 |
| 1998 | Nebraska | Big 12 | Semi-finals | 32 | 2 | 99 | 16 |
| 2000 | Hawaii | WAC | Semi-finals | 31 | 2 | 95 | 16 |
| 2001 | Nebraska | Big 12 | Semi-finals | 31 | 2 | 94 | 14 |
| 1998 | Florida | SEC | Semi-finals | 35 | 3 | 107 | 24 |
| 2002 | Florida | SEC | Semi-finals | 34 | 3 | 105 | 17 |
| 2009 | Hawaii | WAC | Semi-finals | 32 | 3 | 100 | 17 |
| 1999 | Pacific | Big West | Semi-finals | 32 | 3 | NA | NA |
| 2008 | Nebraska | Big 12 | Semi-finals | 31 | 3 | 97 | 21 |
| 2000 | USC | Pac 10 | Semi-finals | 29 | 3 | 87 | 20 |
| 2011 | USC | Pac 12 | Semi-finals | 30 | 5 | 91 | 25 |
| 2004 | Washington | Pac 10 | Semi-finals | 28 | 3 | 89 | 23 |
| 2006 | UCLA | Pac 10 | Semi-finals | 33 | 4 | 104 | 24 |
| 1999 | Long Beach | Big West | Semi-finals | 31 | 4 | 95 | 23 |
| 2008 | Texas | Big 12 | Semi-finals | 29 | 4 | 94 | 24 |
| 2006 | Washington | Pac 10 | Semi-finals | 29 | 5 | 92 | 26 |
| 2007 | USC | Pac 10 | Semi-finals | 29 | 5 | 91 | 35 |
| 2005 | Santa Clara | WCC | Semi-finals | 27 | 5 | 88 | 30 |
| 2001 | Arizona | Pac 10 | Semi-finals | 25 | 5 | 79 | 25 |
| 2010 | USC | Pac 10 | Semi Finals | 29 | 6 | 91 | 36 |
| 2010 | Texas | Big 12 | Semi finals | 27 | 6 | 84 | 34 |
| 2004 | USC | Pac 10 | Semi-finals | 23 | 6 | 76 | 32 |
| 2011 | Florida State | ACC | Semi-finals | 28 | 7 | 90 | 39 |
| 2007 | California | Pac 10 | Semi-finals | 26 | 8 | 87 | 36 |
| 2009 | Minnesota | Big Ten | Semi-finals | 28 | 9 | 88 | 41 |
| 2003 | Minnesota | Big Ten | Semi-finals | 26 | 11 | 85 | 49 |
| 2005 | Tennessee | SEC | Semi-finals | 19 | 12 | 70 | 49 |
Erroll Garner Gets Kick From Champagne