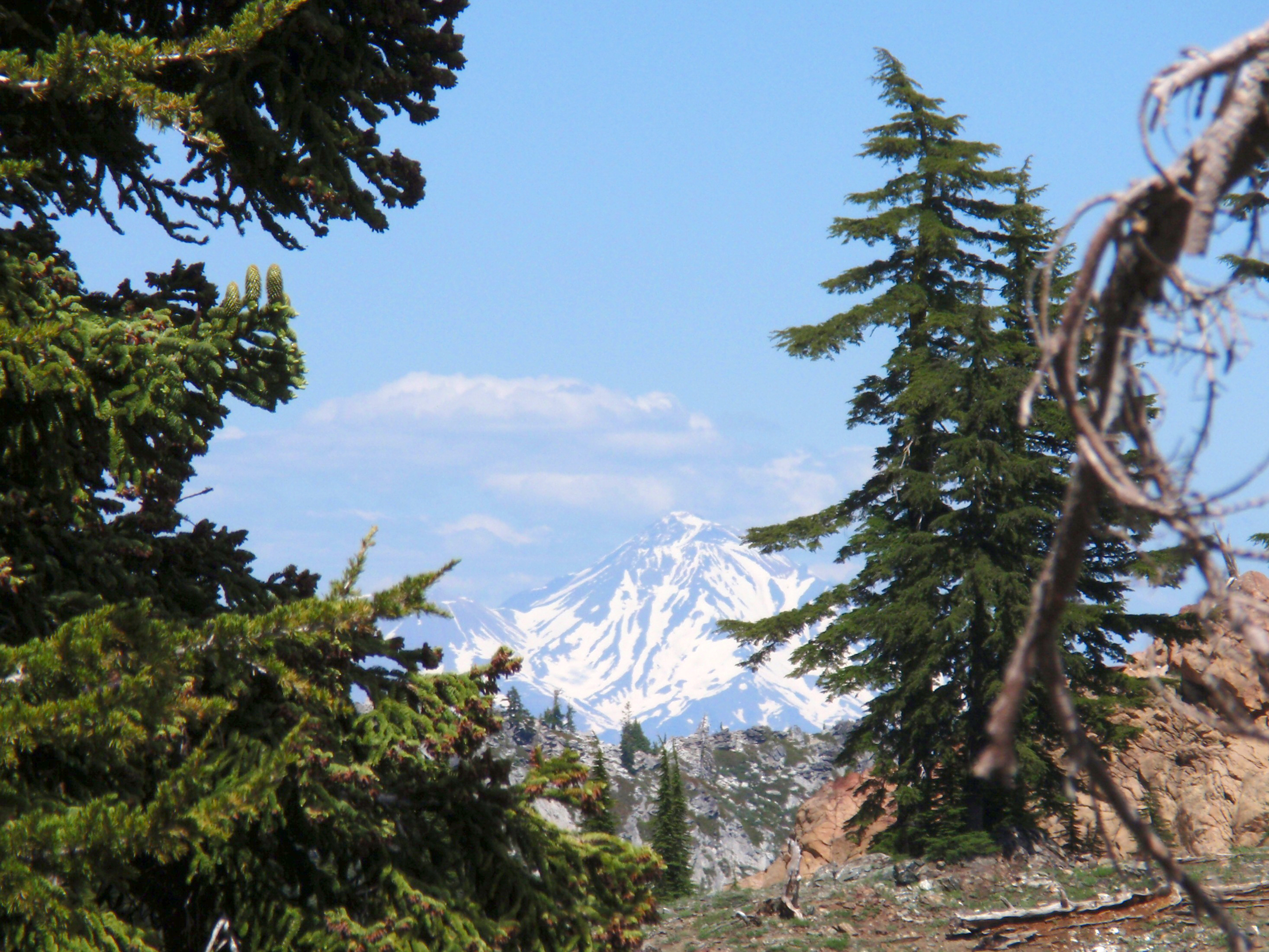 Photo courtesy of Tom Hilton, Wikimedia Commons
This is Part II of a three-part series — Big Ten Tall Tales, in which we have compiled statistics on the height of the top hitters and blockers (statistically speaking) in the Big Ten from 2003 through 2010, along with their statistics for each year.  We started with 2003 because that is the earliest year for which the Big Ten has league online statistics.  
As we noted in Big Ten Tall Tales I — which focuses on hitting percentage statistics — volleyball success requires much more than height — hard play, quality swings, great passing, and good blocking technique come in all sizes.  But we were curious as to whether there might be a slight upward trend.  We quickly found that there wasn't for our sample — probably too small a sample of players and too short a period of time. In fact, some of the earlier years have taller average heights than some of the later years.  Perhaps if the sample went back to 1980, a trend to taller players would become apparent. 
Still, the exercise was interesting to us.  If you take some time to explore the table below, you'll learn (if you didn't already know)  that during this eight-year period, only two players were ranked in the top-ten in kills four times (Laura DeBruler probably would have been the third, had she not been injured).  Eleven freshmen made the top ten (three in 2005 and three in 2006).  Ohio State's Stacey Gordon has the two highest per/set averages, by a long shot.  Granted, her totals came in the 30-point scoring era, but mighty impressive nonetheless.
We added links for each player, either to their bio (if we could find one) or to an article about them (when we couldn't locate a bio).  We enjoy the retrospective, and hope you do too.
The table is sortable, meaning you can reorder the data by clicking on the arrows at the top of each column.  Though we instructed our vast army of proofreaders and statisticians to use extra care on this, judging from their "Are we done yet?" attitude lately (Spring in the air?) there may well be errors.  Please let us know if you spot any. 
Stay tuned for Big Ten Tall Tales III: Blocking Leaders (2003 to 2010). 
Big Ten Women's Volleyball Kills Leaders 2003 to 2010 (Conference Only; Minimum 2.00/set)
| Year | Player | Team | Cl | Ht | Sets | No. | Kills/Set |
| --- | --- | --- | --- | --- | --- | --- | --- |
| 2003 | Gordon, Stacey | OSU | Jr. | 5-10 | 75 | 508 | 6.77 |
| 2003 | Busse, Cassie | MINN | Sr. | 6-2 | 70 | 352 | 5.03 |
| 2003 | Schram, Kim | MSU | Jr. | 6-2 | 75 | 371 | 4.95 |
| 2003 | Lodzik, Iwona | NU | Sr. | 6-1 | 71 | 321 | 4.52 |
| 2003 | Moore, Erin | MICH | Sr. | 6-1 | 77 | 334 | 4.34 |
| 2003 | Martin, Erin | MINN | Jr. | 6-0 | 72 | 290 | 4.03 |
| 2003 | Pederson, Ashley | PSU | Jr. | 6-1 | 74 | 291 | 3.93 |
| 2003 | Simpson, Laura | IOWA | Jr. | 6-2 | 65 | 255 | 3.92 |
| 2003 | Gandolph, Jennifer | MICH | Jr. | 6-1 | 77 | 299 | 3.88 |
| 2003 | VanMeter, Rachel | ILL | So. | 6-3 | 75 | 288 | 3.84 |
| 2003 | Average | Average | na | 6-1.1 | na | na | na |
| 2004 | Gordon, Stacey | OSU | Sr. | 5-10 | 71 | 497 | 7.00 |
| 2004 | Schram, Kim | MSU | Sr. | 6-2 | 72 | 366 | 5.08 |
| 2004 | Martin, Erin | MINN | Sr. | 6-0 | 70 | 346 | 4.94 |
| 2004 | VanMeter, Rachel | ILL | Jr. | 6-3 | 73 | 315 | 4.32 |
| 2004 | Price, Kate | PSU | Fr. | 6-2 | 69 | 281 | 4.07 |
| 2004 | Wischmeier, Leah | PUR | Jr. | 6-1 | 73 | 287 | 3.93 |
| 2004 | McConaha, Kim | PUR | Sr. | 6-1 | 76 | 296 | 3.89 |
| 2004 | Anderson, Lindsay | NU | Fr. | 6-0 | 68 | 261 | 3.84 |
| 2004 | Shaw, Sheila | WIS | Jr. | 6-2 | 72 | 276 | 3.83 |
| 2004 | Belter, Jessica | ILL | Sr. | 6-4 | 73 | 274 | 3.75 |
| 2004 | Average | Average | na | 6-1.3 | na | na | na |
| 2005 | VanMeter, Rachel | ILL | Sr. | 6-3 | 77 | 433 | 5.62 |
| 2005 | Fawcett, Nicole | PSU | Fr. | 6-4 | 62 | 281 | 4.53 |
| 2005 | Johnson, Katie | MSU | So. | 6-3 | 74 | 319 | 4.31 |
| 2005 | Meyer, Danielle | OSU | So. | 6-1 | 73 | 300 | 4.11 |
| 2005 | Bruzdzinski, Katie | MICH | So. | 6-0 | 71 | 272 | 3.83 |
| 2005 | Merlau, Danita | PUR | Fr. | 6-4 | 75 | 285 | 3.80 |
| 2005 | Schatzle, Ashley | MSU | So. | 6-1 | 78 | 291 | 3.73 |
| 2005 | Smale, Catherine | IOWA | Fr. | 6-1 | 72 | 261 | 3.62 |
| 2005 | Anderson, Lindsay | NU | So. | 6-0 | 74 | 263 | 3.55 |
| 2005 | Stevens, Ami | OSU | So. | 6-1 | 73 | 251 | 3.44 |
| 2005 | Average | Average | na | 6-1.8 | na | na | na |
| 2006 | Hodge, Megan | PSU | Fr. | 6-3 | 64 | 342 | 5.34 |
| 2006 | Dolgner, Brittney | WIS | Fr. | 6-0 | 68 | 321 | 4.72 |
| 2006 | Schatzle, Ashley | MSU | Jr. | 6-1 | 69 | 325 | 4.71 |
| 2006 | Johnson, Katie | MSU | Jr. | 6-3 | 69 | 322 | 4.67 |
| 2006 | Turner, Kayani | ILL | So. | 6-2 | 50 | 225 | 4.50 |
| 2006 | Bruzdzinski, Katie | MICH | Jr.. | 6-0 | 71 | 319 | 4.49 |
| 2006 | Szerszen, Anna | OSU | Fr. | 6-3 | 70 | 312 | 4.46 |
| 2006 | Fawcett, Nicole | PSU | So. | 6-4 | 64 | 264 | 4.12 |
| 2006 | Meyer, Danielle | OSU | Jr. | 6-1 | 71 | 281 | 3.96 |
| 2006 | Short, Erica | IND | So. | 6-2 | 67 | 264 | 3.94 |
| 2006 | Average | Average | na | 6-1.9 | na | na | na |
| 2007 | DeBruler, Laura | ILL | Fr. | 5-10 | 81 | 403 | 4.98 |
| 2007 | Bruzdzinski, Katie | MICH | Sr. | 6-0 | 76 | 362 | 4.76 |
| 2007 | Hodge, Megan | PSU | So. | 6-3 | 66 | 311 | 4.71 |
| 2007 | Dolgner, Brittney | WIS | So. | 6-0 | 75 | 347 | 4.63 |
| 2007 | Schatzle, Ashley | MSU | Sr. | 6-1 | 70 | 322 | 4.60 |
| 2007 | Johnson, Katie | MSU | Sr. | 6-3 | 70 | 314 | 4.49 |
| 2007 | Fawcett, Nicole | PSU | Jr. | 6-4 | 66 | 286 | 4.33 |
| 2007 | Meyer, Danielle | OSU | Sr. | 6-1 | 75 | 304 | 4.05 |
| 2007 | Short, Erica | IND | Jr. | 6-2 | 72 | 275 | 3.82 |
| 2007 | Merlau, Danita | PUR | Jr. | 6-4 | 71 | 266 | 3.75 |
| 2007 | Average | Average | na | 6-1.6 | na | na | na |
| 2008 | DeBruler, Laura | ILL | So. | 5-10 | 75 | 355 | 4.73 |
| 2008 | Short, Erica | IND | Sr. | 6-2 | 80 | 343 | 4.29 |
| 2008 | Hodge, Megan | PSU | Jr. | 6-3 | 60 | 246 | 4.10 |
| 2008 | Dull, Katie | OSU | So. | 5-10 | 66 | 261 | 3.95 |
| 2008 | Fawcett, Nicole | PSU | Sr. | 6-4 | 60 | 236 | 3.93 |
| 2008 | Dieter, Brook | MINN | So. | 6-1 | 60 | 229 | 3.82 |
| 2008 | Paz, Juliana | MICH | Jr. | 6-0 | 71 | 241 | 3.39 |
| 2008 | Lynch, Stephanie | PUR | Sr. | 6-3 | 77 | 259 | 3.36 |
| 2008 | Dolgner, Brittney | WIS | Jr. | 6-0 | 66 | 222 | 3.36 |
| 2008 | Gibbemeyer, Lauren | MINN | So. | 6-2 | 75 | 239 | 3.19 |
| 2008 | Average | Average | na | 6-1.1 | na | na | na |
| 2009 | Hodge, Megan | PSU | Sr. | 6-3 | 65 | 314 | 4.83 |
| 2009 | DeBruler, Laura | ILL | Jr. | 5-10 | 73 | 303 | 4.15 |
| 2009 | Dull, Katie | OSU | Jr. | 5-10 | 73 | 294 | 4.03 |
| 2009 | Gibbemeyer, Lauren | MINN | Jr. | 6-2 | 67 | 234 | 3.49 |
| 2009 | Paz, Juliana | MICH | Sr. | 6-0 | 81 | 274 | 3.38 |
| 2009 | Hunt, Alex | MICH | So. | 6-0 | 81 | 274 | 3.38 |
| 2009 | Moffett, Sabel | NU | Jr. | 6-0 | 76 | 255 | 3.36 |
| 2009 | Benson, Ashley | IND | Jr. | 6-3 | 79 | 255 | 3.23 |
| 2009 | Haverly, Jordan | IND | Fr. | 6-1 | 80 | 253 | 3.16 |
| 2009 | McCulley, Kylie | ILL | Sr. | 5-11 | 73 | 229 | 3.14 |
| 2009 | Average | Average | na | 6-0.4 | na | na | na |
| 2010 | Brown, Blair | PSU | Sr. | 6-5 | 70 | 310 | 4.43 |
| 2010 | Hunt, Alex | MICH | Jr. | 6-0 | 73 | 322 | 4.41 |
| 2010 | Haverly, Jordan | IND | So. | 6-1 | 73 | 273 | 3.74 |
| 2010 | Bartsch, Michele | ILL | Jr. | 6-3 | 80 | 297 | 3.71 |
| 2010 | Ward, Colleen | ILL | Jr. | 6-2 | 79 | 291 | 3.68 |
| 2010 | Dull, Katie | OSU | Sr. | 5-10 | 74 | 256 | 3.46 |
| 2010 | McClendon, Deja | PSU | Fr. | 6-1 | 70 | 237 | 3.39 |
| 2010 | Benson, Ashley | IND | Sr. | 6-3 | 70 | 236 | 3.37 |
| 2010 | Gibbemeyer, Lauren | MINN | Sr. | 6-2 | 55 | 184 | 3.35 |
| 2010 | Turner, Ariel | PUR | So. | 6-1 | 76 | 242 | 3.18 |
| 2010 | Average | Average | na | 6-1.6 | na | na | na |